Tips for Traveling With Kids in Mexico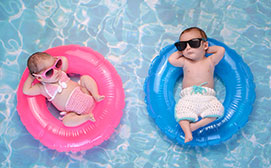 Vacations provide the perfect opportunity for making lifelong memories with your kids, and introducing them to new cultures and experiences. Where better to accomplish this than in Mexico, being so close and affordable?
International travel with kids can be tough, but a few simple hacks will keep vacationers of all ages happy. Keep these tips in mind as you plan your Mexico getaway.
Beach Travel
As a parent, you basically have three times of year open for travel with your school-age children: winter break, spring break, and summer vacation. All have distinct advantages and disadvantages. Midsummer, for example is hot - and can be stormy since the rainy season starts on June 1st. Weather during the winter holidays and spring break is typically more tourist-friendly, but you'll also encounter price increases. Spring is a great time, temps are at their most comfortable, but again prices may be increased due to Mexico's popularity as a Spring Break destination.
What to Pack
Whether exploring open-air markets or trekking on a hiking trail, you and your kids will spend a lot of your time on your feet. Pack hiking sandals to accommodate sweaty feet on the move, and water-friendly mesh shoes for the beach. Hiking shoes are a must for active vacations.
Footwear is only the beginning. Clothing should be light and breathable. Choose comfy fabrics that will wick sweat away from the skin.
Other essentials include:
Sunscreen
Swimsuits
Hats
Sunglasses
Hike-friendly backpacks
If you anticipate needing over-the-counter medications or aloe gel, pack these just in case you can't find them at your destination. Not sure if your kids can handle water activities? Bring Dramamine.
Oft-forgotten but definitely important: activities for down time. Kids get bored quickly; how will you keep them occupied when waiting around or chilling for the evening? Pack books or favorite toys.
Kids Activities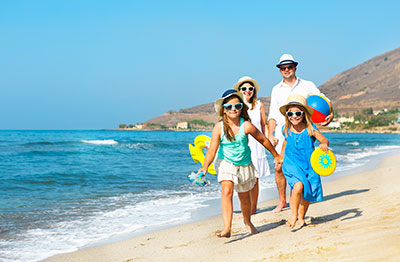 Options abound for active families in Mexico. A beach day is non-negotiable, but the fun doesn't end there. Brave kids (and parents) will love ziplining in the jungle. Water activities are also a blast; consider booking a dolphin sighting excursion or other boat tour. Children find natural wonders just as fascinating as you do; stop by one of Mexico's amazing waterfalls (such as Agua Azul, Cola de Caballo or Misol-Ha). Take a boat to the Arch of Cabo at sunset or ride the train through Copper Canyon. Don't forget to explore local markets and museums to see regional culture up close and personal.
Family Lodgings
If possible, avoid party-central areas such as Downtown Cabo or Cancun's Hotel Zone. Staying at a resort? Choose one with a family buffet and a water park.Isla Mujeres and Zihuatanejo are notoriously kid-friendly.
From gorgeous beaches to unique cultural excursions, traveling to Mexico kids is both a blast and a learning opportunity. Remember, not all kids appreciate the same activities. Orient your trip to your children, and you're bound to have a blast.