The Spectacular Touring Circuses of Mexico
A few weeks ago I watched the 2011 American film "Water for Elephants," soon after; I quickly became enchanted by the romance and mystique of the traveling circus. That movie captured the classic feel of the Euro-American circuses of the 1800s and early 20th century that travelled the country on the railways, drawing in crowds with big acts of death, defiance and wonderment.
I never really saw anything like that while I lived in the US. Those travelling shows were romanticized in film and pop culture. A couple big companies took over the business north of the border, and regulations made the shows more sterile. Of course in the Elephants movie, the travelling circus did end in disaster, and I can now easily see how that sort of thing could happen if certain ferocious animals aren't strictly regulated.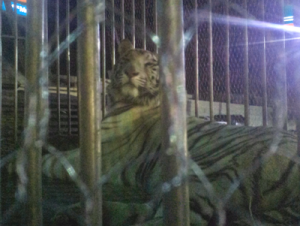 I first noticed advertisements for the circus, Circo Jhonny Lam Spectacular, at a PeMex (gas station) here in Saltillo. A flatbed truck was parked at the corner service station. On the back of the flatbed was a 500-pound, black-and-white Siberian tiger; one of several from the Jhonny Lam menagerie. This advertisement method is very common. A news report from a border town said that one of their tigers went missing during a gun battle between cartel enforcers and law enforcement.
The tickets were very reasonable: about four US dollars to get into the two hour show, but no outside food or beverages allowed. This was strictly enforced. The show itself was indeed quite spectacular. It was so amazing to see. The circus owners wanted to keep their trade secrets secret, so photography was also prohibited, though my wife and I were able to grab a few.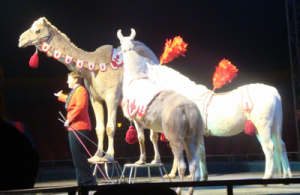 The animals are by far the biggest feature. This sort of old-world animal trained for entertainment is a rare thing in the US. Jhonny Lam and his son were the primary animal masters, as well as Lam's wife who lead the flashy white-horse romp-around.
One of my favorite acts was the dog and pony show. I love dogs and seeing those little creatures dress up and dance around had me in non-stop laughter. It was a very corny, but a cute little show. The younger Lam conducted the dogs, which in one instance, wore ballerina outfits and pushed a stroller that carried a smaller dog. It's cheap but fun laughter derived from the anthropomorphization of household animals.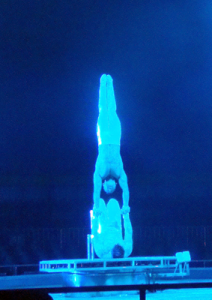 The collection of domestic and exotic animals in this circus was very impressive. An all-white squad of horses ranging in size from great Clydesdale to dog-sized pony, but to up the stakes even more was a large, white and very well trained camel, of what species I can't say. The senior Lam and namesake of the Circus is the handler of the big cats. He commanded six of those 500-poundish Siberian predators to sit in designated places and to jump through a flaming hoop in special order. And here I thought herding cats was impossible.
The human talent was also amazing to watch. The performers were beautiful people, and very well-conditioned athletes. All of them top-notch performers; Jhonny Lam has arranged a company of truly spectacular showmen and beasts for the entertainment of ladies, gentlemen and children of all ages.
Lam's circus isn't the only show in Mexico. I've heard that Fuentes Gasca Brothers puts on an even better show. Most of these shows travel from Mexico to Chile and Argentina. It's hard to find advance schedules for these shows. If you're in a large city in Mexico ask around for a circus. They run year around.