The Magical Town of Alamos, Mexico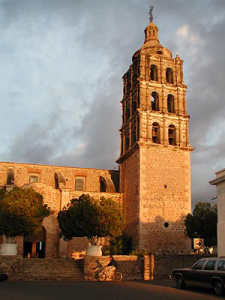 Only a day's drive from the Arizona border, across the deserts of the Sonora, and up into the mountains of the Sierra Madre is the town of Alamos. At a cool elevation of 482 meters (1581 feet), the beautifully restored colonial town has long been a haven for creative types from the U.S. and Canada. The town also attracts a steady flow of visitors with its stately architecture, incredible galleries and museums, and rich local culture. Alamos has been declared a historical monument as well as one of Mexico's 32 "Magical Towns" by the Mexican government, and it doesn't take visitors long to figure out why.
The climate of the Sierra Madre Occidental is cooler and wetter than the surrounding Sonoran desert, and its special climate is one of the main reasons the Spanish were inspired to create the city here in the first place. That, and the incredibly rich silver mines that made the city immensely wealthy. Today, the mines are long gone and so is their wealth. However, Alamos has found another generation of benefactors in the form of American and Canadian ex-pats who form a lively community here and have dedicated their efforts to restoring the town's glory. By all rights they have been successful, and today visitors to Alamos will find it to be one of the most gracious and beautiful Spanish colonial towns in Mexico.
Alamos began to make it on the gringo map in the 1950's when famous actors like Carrol O'Conner and Rip Torn bought homes there. While some Mexican towns attract the rag tag hippy beach-going crowd, Alamos attracts a more high-end clientele, who own beautifully restored colonial homes, throw masquerade benefit balls, and spend their time creating the works of art that are displayed in the towns numerous galleries. Alamos has an official population count of about 13,000 people, 400 of which are permanent gringo residents, although that number increases in the winter when the snowbirds arrive.
The best time to visit Alamos depends on your reason for visiting. From mid-October to mid-April is the dry season, and during this time the air is cool and fresh. This is high tourist season, so you will see the town's population and prices increase accordingly. From November to February is quail and dove hunting season and this attracts a fair amount of visitors as well. Travel there in the summer and you are likely to have the entire town to yourself. From April to September is the rainy season, and if you enjoy summer rains and low prices this is an excellent time to visit Alamos.
There is a nice selection of places to stay in Alamos, though budget accommodations are scarce. Most hotels are in restored colonial buildings that are unique and inviting. Prices start at about $25 a night and go up to over $100 a night. The Rancho Acosta Bed & Breakfast, RV Park and Guest Ranch, located right outside of town, even offers full hook up sites for RV's and a pool.
There are many wonderful places to eat in Alamos, offering an array of international cuisine combined with traditional Mexican flavors. Tours of the surrounding area can be arranged, including a trip to the historic silver mines of La Aduana, where you will find the stunning Casa La Aduana Restaurant and Hotel, run by Frenchman Chef Sam Beardsly.
There are many sparkling gems that await to be discovered in Alamos. Though only a short drive from the border (on excellently maintained roads, by the way) Alamos is a world unto itself. The gorgeous mountain vistas have inspired artists from all over the world to congregate there, turning Alamos into a place where people can gather to discuss worldly issues while drinking coffee from lush gardens within their colonial homes. Alamos is truly a unique and special place, a destination not to be missed.