10 Best Travel Apps for Smartphones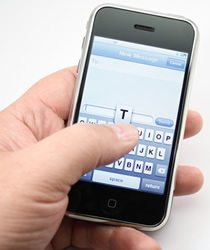 By TravelInsurance.org
A few weeks back my Smartphone, a Sprint Mogul, finally and thankfully went to its final rest in Cell Phone Heaven. It was my 2nd such phone as I had the HTC 6700 shortly before that. With not too much thought and nothing more than slight trepidation (mainly because I had to switch carriers) I made the decision to go for it...and I bought an iPhone.
This article isn't a review of the iPhone, much of what is discussed here relates to other smartphones as well. But I bring up the iPhone because of the commercial that you've all seen and how it directly relates to the travel topic at hand. You know that commercial, "There's an App for that." Well let me tell you they are not kidding. If you can think of it, there is likely an app for it. While there are many games and entertainment apps, it's the Travel Apps that blow my mind. If you're a frequent and avid traveler and you're interested, well then I'd highly suggest that you pick up such a smart phone be it the iPhone itself, the Palm Pre' or whatever newfangled monster to come down the pike in the future. For the most part, these are all iPhone apps. But please check your particular phone to see if it supports the app as well.
And while there are countless apps that you can choose from, I've taken the liberty of providing you with some of the very best Travel Applications out there in no particular order. Enjoy!
Trip It
TripIt.com is a successful travel and itinerary and planning website. The Trip It app is the way that it is brought to your cell phone. Much like the wildly successful Facebook app, this little icon brings Trip It to your phone. With one click you have instant access to your complete travel plans. You get Trip It to become your own Personal Assistant by simply sending an e-mail with your full plans to plans@tripit.com. From that point on, as long as you have your phone on you, you'll always have a complete itinerary... even if you happen to lose your passport! Also like the Facebook app, this is entirely free.
FlightTrack and FlightlightTrackPro
FlightTrackPro allows you to have a full suite of information and visuals for your personal travel itinerary without having to continuously and repeatedly re-type your flight information in and without requiring a subscription to an additional service. You can simply connect with your Trip It itinerary and Viola! Some additional features include viewing live flight map (including weather radar), predict delays w/ FAA warnings, search international flight schedules, one touch flight status push to friends and family and others. FlightTrack is a lighter version of the app providing you with the essentials such as flight tracking (duh), checking arrival and departure gates as well as weather delays. According to Forbes Magazine, "If you're going to fly by air, you're going to want this application." The cost of the App is $4.00 for Flight Track and $9.99 for FlightTrackPro in Apple's App Store.
Postman
Talk about a wonderfully ingenious and neat idea. (Yeah, I said neat, so sue me.) Postman is such a handy and delightfully simple idea for an app you'll wish that you'd thought of it yourself. Postman allows you to snap a picture using your iPhone, frame it with a selectable theme, add a greeting and send it along as a e-post card to any of your contacts. It might not replace the tchotchke post card you pick up in a gift shop, but then again, it just might. Imagine snapping a photo of yourself in perspective looking as if you're trying to hold up the leaning tower of Pisa and send it along to your daughter back in the States instantaneously. Available for only $.99.
UrbanSpoon
Perhaps you've seen this one on the commercial. I was introduced to it by my brother-in-law who is dating a girl who recently moved to NYC. When he goes to visit her she's pretty new to the neighborhood so she can't really back up an recommendations for dinner. So he just whips out his iPhone and gives it a shake. The app allows you to select your location (or finds your current location using GPS for ease of use) and then decide if you want to go entirely random, or lock in any one of three categories (Nearby Location, Type of Restaurant, and Price.) A simple shake or a touch of a button and the slot machine graphic rewards you with a selection based on your criteria. The accompanying sounds which sounds not unlike a spoon hitting a bucket is remarkably satisfying as if to say "Eureka, I now know where I want to eat!" Once you've found your selection you can go to the selection and call for a reservation with a single touch of the contact information, read customer reviews, go to the website if applicable and even see images of the menu ahead of time if possible. This can come in quite handy when traveling for business or pleasure and you'd rather not rely on the tourist handouts to find a good steak dinner. Think of it as a handheld concierge. Best of all, the app is free!
Translate It!
Translate It! is a simple, refined and elegant interface application for multi-lingual translation. While there are numerous applications for translation, it is the ease of use of Translate It! that makes it such a joy. The process is simple, just select you're the language you'd like to have your first language translated into and input your phrase into the text box and you get your phrase back instantaneously. What is wonderful is how it is presented. You see it in the same traditional way that most iPhone conversations are presented, as an instant message conversation. It couldn't be easier to use. Available for $2.99 in the app store (but watch out for specials as it was recently offered for a short time at $.99).
Currency
As the app store description says "As seen in two Apple TV Commercials." If you've ever traveled abroad you know what you're in for regarding currency conversion. Maybe you do it in the international terminal at home, or you find a conversion bank abroad you're always asking yourself "Am I getting the right rate right now?" Well wonder no more. This handy little application provides always updated currency conversions for over 70 countries and supports all 18 languages understood by the iPhone. Easy to use, this app makes sure that you get every cent, pence, rupee, euro and yen that you've got coming to you. The good news is that you're not going to need to convert any currency to get this app, it's available for free.
Cheap Gas
Developed by David J. Hinson with information provided by GasBuddy.com, the Cheap Gas! application is pretty much self explanatory. If you had a father like I did growing up, you've probably watched as your Mother's face went white with fear as your Father decided he wasn't going to stop for gas in the most diabolical part of the heart of the city because he was certain that he could find it cheaper somewhere nearby... even if he was running on fumes and bullets buzzed the window. Well you won't have to relive that horror anymore. Now you have a travel companion that can tell you when, where and how far the nearest cheap gas is. Beautiful features include a link embedded in the 'miles to' display that allows you to see the location in Google Earth (and find directions) as well as a Tweet feature if you feel like spreading the love! Another free app for the penny pincher out there.
Sit or Squat
Quite possibly created personally for my wife, or perhaps Eddie Kaye Thomas' character "Finch" from American Pie (remember his NSFW nickname?) this app can find you the Number 1 bathroom for your Number 2 situation. Again using GPS locating, it will find where you are at and provide you with a number of options in your immediate locale. Complete a search to find out where the closest can is. Read reviews (if so inclined) to see what others have thought about the public SITuation. Oddly enough, on the you'll find color coded pushpins for reviewed and established sites, with purple being a "Favorite" bathroom. I had no idea that you could have a favorite bathroom but I guess you learn something new every day. Thanks to this app being cleverly sponsored by the folks at Charmin, who've "got your back", this app comes free.
Call a Taxi - Instantly find a taxi-cab, anytime, anywhere.
I cannot possibly tell you the number of times in my life (pre smart-phone era.... shoot, pre cell phone era) where this app could have saved me a world of heartache and headache. Sure you can look up "Yellow Cab" or "Checker Cab" wherever you are. But what if you don't really know where you are? If you don't have yellow pages in front of you or if you have your cell but you're not familiar with the area that you are in, this idea could not only be handy-dandy but could potentially be a real lifesaver. With two clicks you'll be put in contact with the closest, and by-proxy, the cheapest Taxi company to wherever you currently are. It even works at 3:30 am! 10 years ago Dad's used to buy their daughters mace key chains when they went off to college, today they buy them an app like this. Times, they are-a changin'! The price is $199.
AAA Roadside
You know triple A. No, it's not the 12 step program, it's AAA (Automobile Association of America) and it's been helping stranded motorists for many a year. This handy application is available for free but requires a paid membership with AAA for it really to have any value for you. That being said, there are 50 Million members currently so there is a good chance that you have yours. The benefit of having the app over just having a standard membership is that with the app there is no need to wait for telephone conversations with the dispatcher. You can use the form to select your type of breakdown and have the nearest and quickest approved technican dispatched to your location (which is conveniently figured out for you by your iPhone, something that is incredibly handy for someone like myself who has been broken down before and had no idea how to explain where I was a the time). Currently, the application doesn't involve AAA's wonderful Triptik service, only roadside assistance. That being said, there's always room for growth and improvement.
So there it is, you're very first Smartphone Travel App list. I hope that this helps you make the decision whether or not to pick one up for yourself. I have a few on the list and I hope that you'll trust me when I tell you that they're worth the price (especially when they're free).