Tequila Testing Horseback Riding Tour Mexico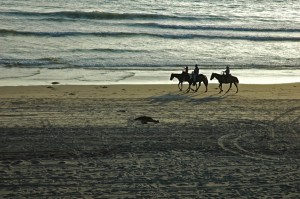 Horseback Riding in Hacienda del Carmen
RIDE: Old Railway, 2 hours (includes fresh drinks)
LEVEL: Any.
Begin at the stables, where you obtain your horse. Ride through corn, sugar cane and agave plantations. The railway was used to connect the cities of Ahualulco, Etzatlán to Ixtlán.
RIDE: Guachimontones, 9 hours
LEVEL: Intermediate and Advanced Riders
Ride through the plantations to the town of Teuchitlán, where you will rest and visit the historic museum. The ride will continue on to the hills of Teuchitlán to several archaeological sites. Your guide will accompany you by foot.
RIDE: Romantic, 2 hours (before the sunset)
LEVEL: Any.
Follow Old Railway path to the train station. Lovely sunset ride.
For more information, click here.