Tampico Part 2: Mexico's beach for Mexicans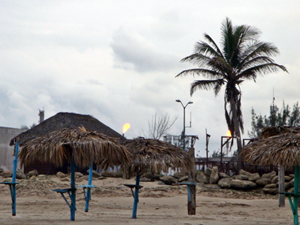 One major thing I failed to mention about Tampico in the last article is that it is Mexico's principle port for petroleum and refining. Mexico's national and only oil company PeMex heads its operations in Tampico. As you drive into the city you'll see this is far more the principle industry than the tourism in this coastal city of around 400,000 people.
I mention this not to detour tourists from coming to Tampico, but it's a fact to consider. Most tropic-bound tourists aren't looking to vacation at a beach located next to a petroleum port, with oil barges coming and going, and the ever-present glow of the refinery fires burning day and night. Some might say there's a smell of diesel in the air. But maybe you're not like most tourists and you want to see a more authentic Mexico, that's for real Mexicans.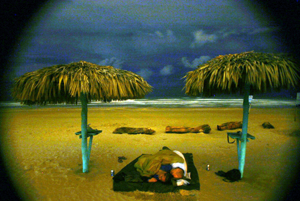 I went last weekend, which was the first part of February. The weather was not especially sunny, but it was warm enough throughout the night that you could camp out on the beach with a blanket. That was an option we were given by a hotel. But since we were there during the off-season we secured a discounted rate at the 3.5 star beach side Best Western Hotel Lorencillo Miramar. During March and April a room would normally run about $120 US per night during, however we only paid just 500 pesos (about $40 US) per night, since there were so many vacant rooms.
This special "promotion" was a cash-only deal and we received no receipt. That raises the question as to why it was so cheap (maybe Best Western wasn't privy to those details), but it affected our service in no way. Our stay at the hotel gave us access to the covered beach camping areas, which at night were practically deserted, giving my wife and me romantic moonlit beach evenings.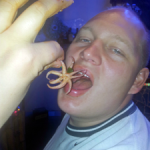 As far as great fresh seafood restaurants in the area…I have to put in a good word to the tiki-hut style La Tortuga eatery. You can spot this place because its menu and principal sign have an upright walking turtle caricature that looks like a Koopa Trooper from the Mario game series. I was under the weather at the time, so I went with the Tortuga special soup. While it didn't actually have any turtle meat in it, there was just about every other kind of sea critter. My wife watched curiously as I dove into the cauldron of whole prawns, small octopi, calamari, half a crab, a whole fish of some sort, and a variety of other invigorating bounties of the sea! While I had to pick through a lot of carapaces and bones, I did so voraciously and felt much more satisfied than I would have if I had just gone with a hamburger.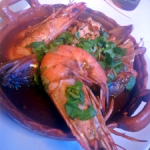 Tampico was a paradise for me and the missus because it was so under-populated. If you want to see what a Mexican beach festival looks like there though, visit Tampico's beaches during Semana Santa, which takes place between March 22 and 31st this year. I'm told that during that week the beach-side drive moves at a crawl and the beach is absolutely crammed with visitors and vendors.