Tampico Off-Season, A Hidden Paradise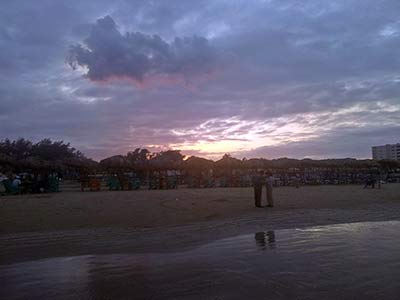 I can't really speak as an expert of beach tourism. I grew up around the oceans of the Puget Sound, but as far as tropical sandy beaches go, I have only seen the world-famous Cancun of the Yucatan Peninsula and a bit of Costa Rica's Pacific beaches. However, I now get to add Mexico's gulf coast to that list.
Instead of celebrating the Catholic Dia De Candelaria, the American Groundhog Day, or attending a Superbowl party, I made the six-hour drive south-east to the port city of Tampico, located on the Gulf of Mexico in the border state of Tamulipas.
In a previous article I mentioned that there are toll highways as well as free roads. My route took me through areas without the toll ways. I had never driven such a length on a Mexican freeway. In the rural areas between Monterrey and Tampico it is important to pay great heed on these two-lane, high speed bi-ways. You will be expected to drive on the shoulder so that other motorists can pass while using your lane, when you see them or not. It was a bit jarring. You can not put yourself on auto-pilot on these sorts of routes like you can on American interstates.
Once my wife and I made our way down from the dry mountainous desert and into the verdant coastal area, my sinuses felt relief. There's nothing like the sea air to relieve a dry desert flu.
It's early February, the coldest time of the year for most of this hemisphere, but here in Tampico the weather is very mild and agreeable. It's been cloudy, but that's a respite for desert residents. The humidity keeps the temperature pleasant throughout the day and night.
A great experience so far has been the sparsely populated grey-sand beaches. This tourist destination is at its peak during the spring-vacation months, which don't start until March. Plus, this is not an international hot-spot. So far I haven't seen any other North Americans or Europeans. That being said, if you visit here you best have some Spanish with you. This beach, called Miramar, (an outskirt municipality of the greater Tampico area) is mostly a vacation spot for people from the surrounding cities such as Monterrey, and my own home Saltillo.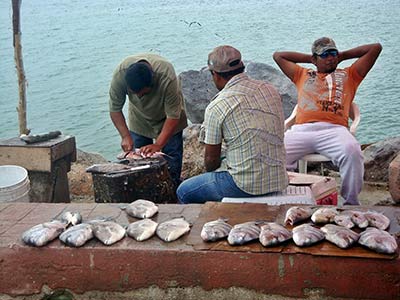 There's plenty of fresh sea-food. Local fisherman peddle their new catch of the day, gutted right in front of you. Though my wife was a bit cautious about eating the fresh catches in light of the recent BP accident.
Beach combing here is a fun and free activity. Artisans do it too, making jewelry for the tourists to buy. We collected our fair share of shells. Be cautious while walking barefoot. During our beach walk we spotted dozens of air-filled blue jellyfish that had washed ashore. I identified them as the Portuguese Man of War. Locals warned me not to touch the tentacles, lest get a inflamed and discolored foot.
Along side the sea shells and men of war we found plenty of BP's tar balls. They are black, pliable clumps of tar embedded with sand and sea shells. While it's a bit melancholy to see how much this industrial accident has effected the sea, it's a fun and free collectible.
For a truly Mexican tourist experience, come to Tampico. Comb the beaches and bring home your own piece of history.