Taking Pets Into Mexico
Requirements for Pets Entering Into Mexico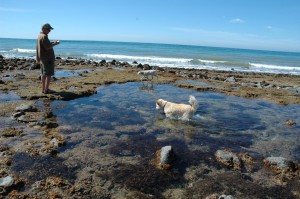 For many people, family pets are quite often considered to be actual members of the family, so the thought of leaving a pampered pet behind, while the rest of the family enjoys a vacation south of the border is not a very desirable option. Luckily, taking pets to Mexico is a fairly easy thing to do. Of course, there will be some paperwork involved, but this article should provide enough information to get the process started and allow you to bring your pet with you.
Health Certificate
You will need to provide duplicate copies of a Certificate of Health that has been issued by a Licensed Veterinarian within 10 days of the export of your pet. Health certificates are only valid for six months. The certificate needs to include all of the following information:
Full name and home address of the pet's importer/exporter (typically the owner)
Destination address
Physical description of the pet, including species, age and sex
Information and dates of actual vaccinations
Must state the pet has been examined and found to be free of any contagious diseases
The form needs to include the seal of the United States Department of Agriculture
Vaccinations
You will need to show that your pet's vaccinations are up to date. The Health Certificate mentioned above must also show the specific dates that inoculations were last completed. Inoculations must have be administered at least 15 days prior to arrival of the pet in Mexico. Animals under three months old are exempt and will not have this requirement. Vaccinations need to include:
Quarantined Pets
If you have the proper paperwork that shows your pet is disease free and that all required vaccinations are up to date, then your pet should not need to be quarantined. However, all pets are subject to an inspection upon arrival to Mexico. If they should appear to be less than fully fit and healthy, an additional examination by a Licensed Veterinarian may be required before the pet will be allowed to enter into Mexico.
Mexico currently only allows you to bring dogs and cats. There is also a two pet maximum, but import permits may be obtained from the Mexican Consulate if you should need to bring more. It is a good idea to have more than one copy of any important documents, including documentation showing proof of pet ownership. If you would like to learn more about taking your pets into Mexico, please visit the United States Department of Agriculture, Animal and Plant Health Inspection Service website at: http://www.aphis.usda.gov/regulations/vs/iregs/animals/animal_mexico.shtml.
If you have other questions, please visit the Mexico Insurance Professional's Frequently Asked Questions page at: https://www.mexpro.com/mexico/faq.html, or you can call to speak with a Mexico Tourist Auto Insurance Specialist Agent at 888-467-4639.