Santo Cristo Festival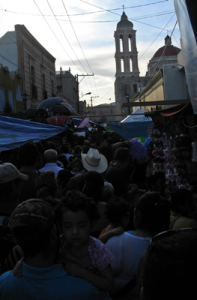 The reverb of drums echo throughout the central district of downtown Saltillo as my wife and I scramble through the narrow streets in my Jetta. I don't mind a bit of a walk, but she insists we find the closest parking spot possible. It's another festival in honor of a saint, I figure.
"It's for the Santo Cristo" my life partner/cultural guide tells me. Santo Cristo? I thought Christ was the god of Christianity, not a mere saint. However, that's a mistranslation. Santo also means Holy in the Spanish language. If you see a Spanish bible the cover reads Santa Biblia or Holy Bible for ye English.
We manage to snag a parking spot for which three other eager pilgrims are spearing for. When in such a densely populated area, the task of finding a place to safely and temporarily store your motor carriage becomes a sort of competitive pursuit. People are cool about it though.
I had never heard of this festival for Santo Cristo. Well, I supposed that it would be his (His) birthday, which is usually celebrated late December just after the winter solstice. That's because this Santo Cristo is a local holiday, commemorating a holy artifact at the Cathedral of Santiago in central Saltillo, which is reveled every August 6th.
Each year thousands of people make the pilgrimage to see a statue of Jesus upon the cross, which according to the Diocese of Saltillo, was carried directly to the chapel in 1608, upon the back of a lone mule. A random mule brought a Jesus statue encased in a wooden box to the central cathedral, and so many folks considered this as a symbol, or a sign for God's predilection for the people of Saltillo.
Less fantastic, more historical accounts say that the statue was commissioned along with several other depictions of the savior by then Spanish King Charles V in order to evangelize and convert the native populations away from the gods of Mesoamerica.
It worked, apparently. That drumming I mentioned earlier was of the Matachines, a religious mestizo culture that combines aboriginal customs with reverence to the saints and God-head of Roman Catholicism.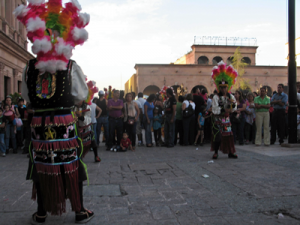 For me, the dance of the Matachines is the main attraction. I didn't even bother to pay admiration to the 400-year old statue. A lot of the time it's a long line, and people walk it on bended knees, and I have bunk knees from too much running in the Army.
Getting to the central plaza during this holiday is a sort of obstacle course. The streets are crammed with fair food and toy venders, temporary eateries and even gyrating carnival rides for the kids, spinning a bit close for comfort in an already dense street section. I give my wallet and phone to my wife for her to safeguard from potential pickpockets. With little to no wiggle room it's hard to tell whose hands are in which pockets. I learned that lesson the hard way in the subways of Rome.
There was a time when I detested being in these crowded areas. It's not uncommon for combat veterans to avoid such events. Our experiences lead us to hyper-vigilance and panic attacks that can ruin any good time. But now I always look forward to it for the cheap entertainment and delicious and inexpensive food.
Keep in mind that Saltillo was listed by the US State Department as an "avoid traveling to or through" zone. By all means, hear out your government's advice, but don't let it keep you from taking in culture and having a good time. I'm not only alive, but I'm healthier and happier than I was before expatriating to Saltillo.
There are festivals going on all the time throughout Mexico in the central plazas. Just inquire locally.