Saltillo, Rock City
I'm from the Seattle, WA area and there we have plenty of opportunity to take in the Indie rock scene. I grew up listening to the alternative bands of the 1990s. When I moved to Mexico I thought I would have put my love for live rock music behind me. However, the more time I spend here the more I'm realizing that's not the case. There's plenty of rock music in Saltillo, and it's often in English.
I first realized Saltillo's appreciation for English language rock music about a year ago. In an earlier piece I wrote about the Museo de Catrina, which pays homage to the dead year round. The one shrine I recognized at that museum was to the late composer and Beatle, John Lennon.
I thought maybe there was a fab-four fan working at the museum. However, here in Mexico (or at least in Saltillo) the Beatles are often put up on a pedestal alongside saints. On a couple of occasions in Catholic homes I've seen photos of John, Paul, Ringo and George next to those of the Virgin Guadalupe, Christ at the last supper, and other saints.
However, the popularity of English language rock goes beyond the British invasion of the 1960s. Downtown in Saltillo on the weekends I sometimes go to bars to check out the night life. Whenever I hear the tell-tale sound of a live drum set being played, I'm drawn in to check it out. At pop clubs or karaoke clubs I can't sing along with most of the songs, but at rock clubs I often hear bands such as Metallica, Guns and Roses, ACDC, Nirvana, and of course The Beatles. I can sing along and rock out just like I do with my friends back home.
However, it's not just covers from US and UK bands that get played here. Mexico has a very definitive rock scene that's often labeled Rock Nacional. During the counter-culture revolution of the late 1960s there were some student protests which, in one case, dozens of students were killed by soldiers trying to quell the upheaval. This did not bode well for the government at the time, so as a strategy to unite the people the government went out of its way to put the national rock on the airwaves.
Rock and roll will never die: well, at least it hasn't yet. The government here continues to support the Mexicanized rock scene. The city of Monterrey, which is about a 40-minute drive from Saltillo, has even earned its own genre of rock music coined Monterrock, sort of like when grunge was called the Seattle Sound in the early to mid-1990s.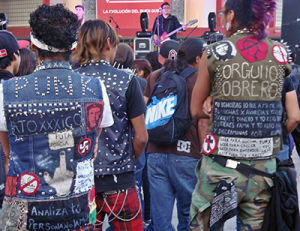 Some examples of how the government continues to support Rock Nacional are public concerts. I had the opportunity to check one out on the 24th of November. I was walking in the downtown area and I saw a gaggle of youths with rocker hair styles and punk-studded jackets. It felt like I was in a time warp or something, because it looked so similar to punk rock shows that I checked out when I was in high school.
Two bands played: Flip Tamez and Royal Bloodline. These bands, I read, are from Mexico City, which has its own big rock scene. Mexican rock bands often have lyrics in English. If you're visiting a big city, especially in the northern parts of the Mexican Republic, ask around for some live rock music if you want a respite from the cumbia, banda, and other traditional Latin music. Mexican Rock is a truly international experience.