Rocky Point Tourism & Visitor Assistance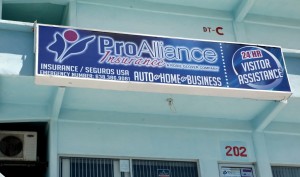 I've had the pleasure of being at the helm of the TOURISM & VISITOR ASSISTANCE (TVA) in Rocky Point since its inception in 2009, when a group of business owners decided to creatively counteract negative press about Mexico in the U.S. It was and remains a simple plan, based on giving every visitor to our community a friend they can call at any hour if they have any problem whatsoever. The assistance offered is available in English and is free of charge.
The office itself operates as any tourism office would. Free brochures, business cards, and discounts general tourist information are made available to anyone who visits, as are International phone calls, faxes, internet and email.
We're frequently asked to recommend hotels, restaurants and other services. We've been asked to find musicians to play at beachfront weddings and we've helped return lost wallets to their grateful owners. Unfortunately, not all problems can be solved with a brochure or a discount. TVA volunteers are familiar with how to provide assistance in situations of a much more serious nature, too.
When a foreigner dies in Mexico, there is a process that can be daunting to the next-of-kin, especially if there is a language barrier. It doesn't happen often, but there have been occasions where we've been asked to accompany people to the morgue, the district attorney's office, a hospital or the jail. We've learned that there's a knack to knowing how to be helpful in the midst of stress. It takes more than language skills to be an interpreter for someone who has a legal problem, when we want also to give due respect to the officials and to the system in place in Mexico.
Sometimes all we can do is let the process run its course, but while waiting, bringing a burger to someone being detained at the jail is a gesture that goes a long way towards expressing who we are as a community.
I've been asked whether those late-night phone calls bother me. I think I'd be more bothered by the thought of someone needing help and not having it. I've also been asked what others can do to help. That's easy…get the word out. Let everyone know that the people of Rocky Point care enough about our visitors to look after them and help them if they should need it.
The office is located in the Tequila Factory building, on the 2nd floor, Suite 202. From the US dial 602.773.1031 or 638.388.6624 in Mexico. For emergencies, call 638.386.9081 or email rosie@proalliance.com.mx.