Rocky Point reports greatest occupancy rates in three years
From http://www.virtual-strategy.com
Travel warnings and dire predictions fail to materialize
Puerto Peñasco (PRWEB) May 29, 2012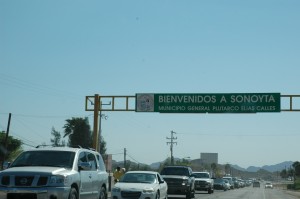 Despite travel warnings issued by the U.S. State Department, and ominous headlines from several news agencies, the beaches were crowded with visitors, the hotels were packed with guests and Rocky Point Sonora was once again the number one destination for travelers to Mexico during the Memorial Day weekend.
Steve Schwab, CEO of Seaside Mexico reported that rental property occupancy rates for the Memorial Day weekend were at their highest. "We had to raise the prices of rentals," Schwab said, "because the demand for rental units was so high. All of our available units were booked well in advance."
The negative headlines had first appeared in various publications in early February, attempting to warn travelers to avoid venturing to Rocky Point and to basically stay out of Mexico. Citing a recent update to a U.S. State Department travel advisory that had been issued in April of 2011, the sensational banners returned to include the new, intensified warning which specifically included avoiding travel to Nogales and Puerto Peñasco (Rocky Point) Mexico.
The U.S. State Department had issued the updated travel warning on February 8 2012, advising that "U.S. citizens visiting Rocky Point/Puerto Peñasco are urged to use the Lukeville, Arizona/Sonoyta, Sonora border crossing, in order to limit driving through Mexico, and to limit travel to main roads during daylight hours" the State Department advisory read. The warning against nighttime highway travel was an extension of the State Department warning issued in April and directed towards U.S. State Department employees and their families.
The original warning had already negatively impacted trade, tourism and spring break vacations to the Rocky Point beach resort on the Gulf of California. Puerto Peñasco is the closest beach to Phoenix, and Mexico is the largest trading partner with Arizona.
Chad Cummins, U.S. Consul General in Nogales attempted to downplay the report as little more than the average travel advisory that would be issued in the U.S. Cummins told Nogales International reporter Jonathan Clark: "What the travel warning says about Nogales and Puerto Peñasco is to exercise caution - exercising caution is the same thing you do when you cross the street, or when you go out at night in the big city." Cummins said. As to the specific warnings against driving at night on the border highways, Cummins stated that this was merely a general caution to motorists and the warning was made "not because you'll be robbed, necessarily, but there's all sorts of things in the road; cows or whatever it is."
Although some Spring Break travel plans to Rocky Point were modified following the initial release of the report, hotels in Rocky Point experienced their highest occupancy rate ever following Spring Break 2012. While the exact numbers are not in just yet, the occupancy rate for this past Memorial Day weekend is estimated to be the highest recorded from previous years.
Fausto Soto, Secretary of Rocky Point and Director of International Relations stated: ¨This past weekend we had a large influx of American tourism." Soto said. "It has been a great opportunity to reinforce that Rocky Point is a safe destination, and it's good to see that the number of visitors over the holiday weekend makes a true statement of the safety of Rocky Point."
On Friday, the line of cars waiting to cross the border was reported to be about a mile long. By Sunday, the line of cars seeking entry to Mexico was estimated to be at least five miles long.
Lazaro Hernandez, Chief of Public Security in Rocky Point reported no major (public safety) incidents and there were no deaths due to accidents.
Sources:
Sunnucks, Mike "US warns against travel to Rocky Point, other parts of Mexico"
Phoenix Business Journal. Friday Feb. 10, 2012
http://www.bizjournals.com/phoenix/news/2012/02/10/us-warns-against-travel-to-rocky.html
---