Rocky Point Rally - La Gran Fiesta de Motocicletas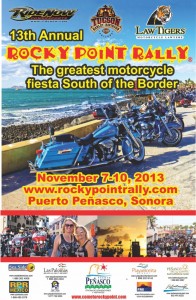 When I was still in grade school, the other kids used to make fun of my first name, by repeating "Michael, Michael, Motorcycle." Well, after decades of riding and a never-ending well of enthusiasm for all kinds of motorbikes, the rhyming taunt looks to have been more of a prediction, than any kind of ridicule. Today, I am proud to say, my name is Michael, and I really do like motorcycles. I am an especially happy biker right now, as I am making preparations for an upcoming motorcycle trip across the Mexico border, to visit Puerto Peñasco, Sonora. This year, I will be attending the 13th annual Rocky Point motorcycle rally.
The Rocky Point Rally (www.rockypointrally.com), commonly referred to by the locals in Puerto Peñasco as "La Gran Fiesta de Motocicletas," is an annual fund raising event held to benefit local charities in and around Puerto Peñasco. The rally founder and coordinator Oscar Palacio, started the event to help raise awareness and money for some very essential local charity organizations. Each year, the proceeds from the event have traditionally been split up equally between the following charity groups:
• Puerto Peñasco Integral Family Development Office
• Sonoyta Integral Family Development Office
• The George Papanicolaou Cancer Screening/Prevention group
• Casa Hogar Home for the Elderly
• The Red Cross
• Puerto Peñasco Fire Department
• La Montaña school for children with special needs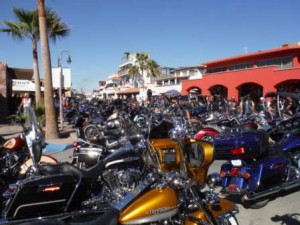 This year's four-day event, will be taking place the weekend before Veteran's Day, beginning on Thursday November 7th and going through Sunday November 10th. Last year, they had over 4500 motorcycles register for the event, and this time around they are expecting even more bikes. The registration for the rally will take place on Thursday November 7th and Friday November 8th, from 9:00 a.m. to 5:00 p.m., at Barclin's Circle K & Pemex Station, at the entrance from Sonoyta (km 96). There is a Registration fee of $10.00 US per person that will be donated to the local charities. If you should miss the registration on Thursday and Friday, there will be an additional registration booth set up Saturday in Puerto Peñasco's Malecon.
While I anticipate that there will be lots of tricked out motorcycles and many beautiful muchachas to look at, there are quite a few other scheduled activities that look to be entertaining and fun:
• Poker Run with prizes (1st stop is at the Flores & Sons Gas Station in Why, Arizona)
• Walking Poker Run
• Black Jack Tournaments
• Morning rides to Schuk Toak Visitors Center at the Pinacate Biosphere Reserve
• Bike Parade
• Boxing Matches
• Pirate Cruise Boat rides
• Bikini Bike Wash
• EcoFun Cruise
• Fiestas, Fiestas, and more Fiestas
• Live Music Concerts
So, I am very much looking forward to getting leathered up for the ride from the cool mountain air and tall pine trees of Flagstaff, Arizona, all the way down to the ocean breeze and sandy beaches of Rocky Point, Sonora. Of course, I'll be packing sun-block, swim-trunks, and flip-flops, into my saddlebags, so I'll be able to kick off my riding boots, when I get there, and enjoy the sun and waves.
When it comes to motorcycles, we all know "it's best to keep the shiny side up," so be sure your ride will be properly covered during a two-wheeled adventure into Mexico. I recommend purchasing a Mexico Tourist Motorcycle Insurance policy from the Mexico Insurance Professionals at Mexpro.com. In just minutes, you can get a quote and purchase a policy through our secure website, or you can call toll-free at 888-467-4639.