Rock Climbing in Mexico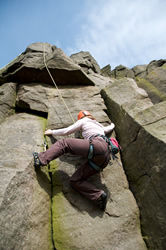 Given the enormity of the country, there is a great variety of rock climbing in Mexico. Within mountainous, desert, rainforest and wooded ecosystems are granite, sandstone, basalt, quartzite and limestone rock formations offering bouldering, sport climbing, traditional climbing and big wall routes.
El Potrero Chico is one of the most popular climbing areas in Mexico, offering single pitch and multi-pitch sport climbs up to 2000 feet in length, and more than 300 climbs to choose from. Located only a couple hours south of the Texas border, and just north of Monterrey, El Potrero is located in a massive cirque of towering limestone. The rock is sharp and technical in nature.
Near El Potrero Chico is another popular sport climbing spot called El Salto.
Click on this link to find a climbing area near where you wish to visit in Mexico. Clicking on the yellow dots within the map of Mexico will give you information on the climbing there and oftentimes photos of the area. This website is in Spanish.
Rockclimbing.com also has extensive information on climbing in Mexico, including the list below with regions in Mexico offering rock climbing. Go to rockclimbing.com to get more information.
Regions: (With Number of Rock Climbing Areas)
Aguascalientes (50)
Baja California Sur (10)
Campeche (0)
Chiapas (0)
Chihuahua (32)
Ciudad de México (254)
Coahuila (55)
Colima (0)
Durango (10)
Estado de México (527)
Guanajuato (368)
Guerrero (14)
Hidalgo (80)
Jalisco (51)
Michoacán (98)
Morelos (13)
Nayarit (5)
Nuevo León (780)
Oaxaca (58)
Puebla (64)
Querétaro (19)
QuintanaRoo (0)
San Luís Potosí (44)
Sinaloa (0)
Sonora (10)
Tabasco (0)
Tamaulipas (0)
Tlaxcala (0)
Veracruz Mex. (59)
Yucatán (0)
Zacatecas (1)