Raechel Running Covers Volleyball Magazine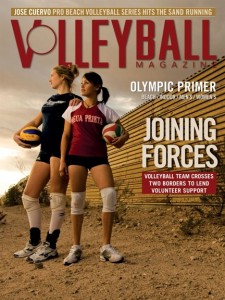 Literally! Our pal Raechel Running, who keeps us continually updated on happenings on the border of Mexico, is the photographer featured on the cover of this month's Volleyball magazine. Congratulations Raechel!
Raechel Running works with the Rancho Feliz Charitable Foundation, a volunteer-based non-profit organization that provides aid to border towns in Mexico through a cross-cultural exchange program. They are located in Agua Prieta, Sonora , where Running lives 50% of the year (the remainder in Mexpro.com's home town of Flagstaff, Arizona). Running captured the Canadian Ryerson volleyball team's philanthropic experience through her photos and snagged the cover of the June 2012 issue with the story.
Here's an except from the article. Read the full article in Volleyball magazine by clicking here.
All told, the Lady Rams' trip provided funding to feed 1,000 local Mexican families. Rancho Feliz typically posts a notice a week prior to a volunteer trip, and then distributes tickets to deserving families.
"We packaged all of the food and when we went to distribute it, there were people lined up as far as you could see," Bracken said. "It was eye opening to see how destitute these people were, but very rewarding to be able to give 1,000 families food for a whole week."
The team also lent a hand in building a house for the Valdez family in Rancho Feliz. In the ultimate team-building exercise, together they mixed cement, pounded nails, laid bricks, and sawed lumber.
"Señor Valdez helped us with the construction along with two of his friends," Bracken said. "We got to know Señora Valdez and their three children as well. It was very special to help them build their own house."
The Lady Rams hope that other volleyball teams will hear their story and consider planning trips with Rancho Feliz as well.
"The day we finished the house, just saying thank you to the family and the purity of their gratitude, I truly felt the impact of our work," Bracken said. "I hope future teams will go and experience what we did."
Click here to read the entire story.

---