Road Trip to Puerto Vallarta: The Most Magical Night of Our Lives
Last Updated: October 28, 2013 by Al Barrus
Categories:
My father in-law is from Jalisco. He's always told me stories of the magic of Puerto Vallarta. I had never been. I went to Cancun when I was 21, just months after returning from a year-long tour of duty in Iraq. But I had never known this tropical pacific destination on Mexico's west coast: traditionally the play area for residents of the greater Guadalajara area, it's exploded to a population of over 250,000 today.
In pre-Columbian times this tropical bay was under the rein of the Aztatlan culture that dominated much of south-west Mexico, including the states of Jalisco, Nayarit and Michoacán, for several hundred years. After Cortez made his way to this bay set against the Sierra Madre Occidental Mountains, his battalions went against the aboriginal armies. He named inlet Bayo de Banderas, or Bay of Flags, in honor of the Native tribal warriors who bravely carried colorful guideons into the battles against the Spanish conquest.
Because of the mountains, the city of Puerto Vallarta is extremely remote and difficult to navigate via land. So remote, in fact, that the city wasn't founded until the 1850s, the same year as my former home city of Seattle, WA. Twenty-four hour electricity finally made its way to the port town in the late 1950s, and in the '60s people began coming via airplane to the tropical paradise and it's since boomed in popularity.
It was a long drive from Saltillo. An old gringo buddy of mine came to visit Mexico for the first time and we took to the road. We stopped in San Luis Potosi and my wife's friend joined us from there. The four of us embarked toward the tropics, passing by Guadalajara then down the steep and curvy roads toward the international tourism destination.
The tropical beach humidity in contrast to the aridness of Mexico's mountainous cities was jarring at first, but we eventually got used to sweating all the time and started relaxing and not doing much of anything. We got down to our swim-suits and enjoyed the steep beaches of this port city, which has been known for several hundreds of years to mariners as a port of refuge.
Romance and love was in the air everywhere we went. As the four of us were taking a late night swim on the beach, just in front of our 60 dollar a night very nice hotel, something very magical happened.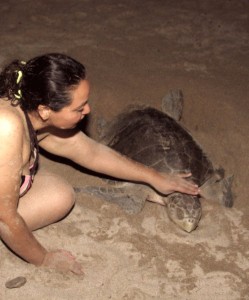 My wife spotted a Pacific Olive Ridley sea turtle that began to crawl upon the beach just a couple meters from where we were swimming and playing. I thought I was dreaming. I didn't even know there were sea turtles in the pacific. I had seen them in Cancun, on a Carribean beach.
My wife became ecstatic. She has always been a turtle lover, but she had never encountered a sea turtle in all her years of living in Mexico. She got in the sand with the turtle and guarded her, crawling alongside. I scrambled for a camera; luckily turtles don't move so fast on the land.
A retired couple from British Columbia were also there to witness this beautiful occasion. "This is a very lucky night," they told us. These turtles normally lay eggs from June to September; this old girl was a few weeks later than the rest of them (as we are now in late October).
There was magic in the air. As I photographed my wife alongside her new found sea-faring friend, witnessing the contractions of the egg-laying, and watching this natural wonder of life, I saw the epitome of romance.
My wife and I, and the kind Canadians saw our turtle friend off, back into the ocean. We then notified the proper authorities to guard the clutch of eggs for the 45-day incubation and the hatch that would continue.
We have two more nights here in Puerto Vallarta. I can't imagine anything matching last night's romance and magic. But then again, anything is possible.