Proyecto Compasión | A Non-profit Humanitarian Organization in Mexico
Proyecto Compasión: a non-profit humanitarian organization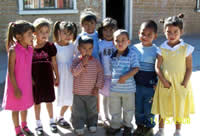 I have mentioned Alan Kohl, owner and operator of MotorMexico.com and one of Mexpro's top brokers, in past blogs on the Baja 1000. In this article I am going to discuss his involvement in Proyecto Compasión, a non-profit humanitarian organization that aids orphans and needy children in the Mexican states of Sonora and Sinaloa.
Alan and his wife, Esperanza, developed close business and personal ties to Latin America during the many years they worked and lived in Mexico, Chile and Puerto Rico. After returning to the U.S. and moving to Tucson, Arizona the Kohl's became interested in a Tucson organization that provided food and other essentials to 18 villages in Sonora, Mexico.
After some years a close Mexican friend introduced Alan to Casa de Elizabeth, an orphanage in Imuris, Sonora. The Kohl's visited the orphanage in 2004 and met the director who explained his philosophy and the needs of the children. He mentioned that during the month they visited there had been no food for the children for two weekends. That was the primary motivation for the Kohl's and a few of their friends to create Proyecto Compasión.
The secondary motivation was a spiritual one. Kohl and his friends who started Proyecto Compasión are all Christians from different denominations who wanted to give back to others in gratitude for their personal blessings. Says Kohl, "Rather than limiting our giving to financial donations, we decided we could make a much greater difference by providing the means for others to make financial and other donations and to coordinate those efforts."
Dave Hansen is one of the founders of Proyecto Compasión and a CPA. He used his skills to incorporate Proyecto Compasión in Arizona as a non-profit or IRS 501(c)3 under the authority of the Arizona Corporation Commission in 2004. Hansen and Kohl then contributed enough money to the organization to print their first newsletter, which was sent to the members of the organization with which they'd previously been involved.
Today, Proyecto Compasión is 100% dependent on donations from private individuals, businesses and churches and uses 95% of those donations to directly benefit needy children in northwest Mexico. The organization's only operating expenses are for the printing of letterhead and envelopes to acknowledge donations, for printing periodic newsletters and postcards used to inform contributors about what the organization is doing, and for postage and bank charges.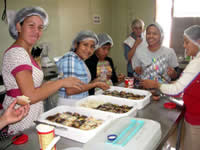 Proyecto Compasión's primary role is as fundraisers, but they also help coordinate repairs and upgrades with volunteers, and cooperate with other organizations to prioritize work projects.
Colene McKee is a Proyecto Compasión board member and is in charge of coordinating volunteer assistance. Proyecto Compasión is entirely a volunteer organization with no paid employees. Volunteers are not reimbursed for time, meals or mileage, so donations can be used only for those in need.
Why the interest in orphanages in Mexico? How do children end up in these orphanages in northern Mexico? Most often children in this part of Mexico are orphaned due to dysfunctional family settings, including: drug & alcohol problems, abuse, violence, abandonment and imprisoned parents. Children are also orphaned when the parents die from accidents or illness. Children are also separated from their parents during immigration, causing them to be placed in orphanages.
Besides Casa de Elizabeth what are other Proyecto Compasión projects? Proyecto Compasión uses the majority of its donations to provide regular monthly financial assistance to Casa de Elizabeth. In addition the organization has helped the following orphanages on occasion:
Casa Hogar (meaning orphanage in Spanish) Niños del Desierto in Caborca, Sonora. Proyecto Compasión has provided approximately $25,000 toward the construction of this new orphanage, which, while close to completion, is still not operational.

Casa Hogar, Tierra del Sol Brillante in El Fuerte, Sinaloa. Proyecto Compasión has provided approximately $6,000 toward the construction of this new orphanage, which is very near completion.

Casa Hogar, Nogales, Sonora: A couple of years ago Proyecto Compasión provided a one-time donation toward Christmas gifts for the children at this well funded orphanage.
The amount of assistance Proyecto Compasión is able to provide is limited by the amount of donations received. In addition to increasing monthly support to Casa de Elizabeth, their hope is to be able to significantly contribute to the completion of the orphanages mentioned above.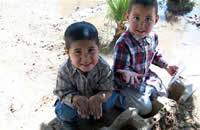 Proyecto Compasión has not made ongoing commitments for monthly support to other orphanages due to the uncertainty of being able to continue that support once they create a dependency. Thus, they provide support as funds allow and where they believe they can make the most difference.
The Proyecto Compasión Board of Directors has recently created more formal roles and responsibilities. In addition, the Board has increased the number of members from three to five. Their hope in the coming months is to develop new strategies that will allow them to reach more donors and be able to help more casa hogars in Mexico.
To learn more about Proyecto Compasión click here. If you would like to make a donation to Proyecto Compasión, please send it to this address:
Proyecto Compasión
P. O. Box 71796
Tucson, Arizona 85752-1796