Pride in Mexico
Saltillo, the city where I live in Mexico, is the state capitol and political center of the Mexican state of Coahuila. I'm happy to see protests and demonstrations regularly here, from union demonstrations to bus-fare protests. Luckily, the demonstrations I've been seeing have been safer and lower key than what's going on in Brazil right, now or worse yet in Syria.
I'm from the west coast of the United States, which is known for its liberal civil liberties policies. In recent elections my own home state of Washington voted to legalize same-sex marriage as well as the recreational use and distribution of marijuana.
Much of Mexico is very conservative when it comes to gay rights, and there are often violent lash outs on openly gay and transgender people, and this has led to some demonstrations in recent years. The 22nd of June was the 4th Marcha Orgulla in Saltillo, or gay pride march.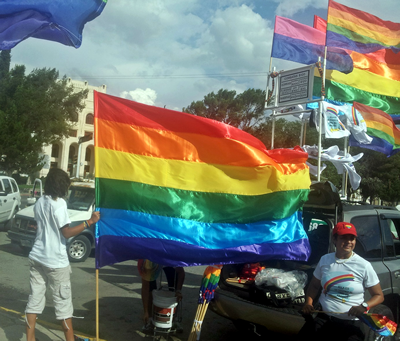 I stepped out of a restaurant to find the pride demonstration had seemingly started spontaneously with loud club music and rainbow flags waving. While the state of Coahuila was the first in the Mexican Republic to legalize same-sex civil unions it is still rare to see same-sex couples holding hands or to see transgender people out and about in full dress. This annual pride march is a rare occasion for LGBTQ peoples to express their gender and sexual identities.
However, this isn't to say that Mexico is generally homophobic or unkind to the gay community. In the larger international metro areas such as nearby Monterrey and especially in Mexico City the attitude is much more open. Mexican laws speak to this open attitude. The state of Quintana Roo, home to Cancun, has had legal same-sex marriages since May of 2012. Mexico City legalized same-sex unions in 2006, and was the second Latin American jurisdiction to do so, after Buenos Aires. My new home state Coahuila was the first Mexican state to legalize civil unions for gays in 2007. The Mexican federal government has struck down other states attempting to define marriage between a man and woman for procreation reasons, since not all heterosexual unions can produce children.
While things are now slowly getting better for the LGBTQ people in Mexico, that's not to say that things have always, been so forward thinking. In the 16th century there was an official inquisition against same-sex acts, and heavy fines, public humiliation and floggings were practiced, but the colonial homosexual persecution ended when Mexico became independent from Spain in the early 1800s.
The French settled in Mexico during the 1860s (which has to do with the battle of the 5th of May, or Cinco de Mayo). Some of the ideas from the French Revolution and Napoleonic Code were adopted in Mexico's laws in 1871, and that meant that whatever two consenting adults did together in private, regardless of their gender, was no longer a criminal act, which put Mexico ahead of the US in some aspects.
Civil rights for openly gay and transgender people is still a bit behind in Mexico; the first pride parades didn't take place until 1979 in Mexico City. For LGBTQ who wish to visit Mexico, the big metro areas along with many of the international tourism destinations are quite safe to practice your gender identity openly. If you go to the right jurisdictions you can even get married without your identity being of concern.