Pope's Visit to Juarez - A Simple Blessing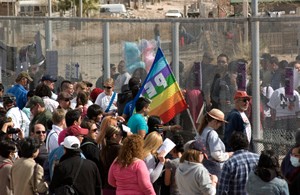 February 17, 2016
In his final Mass in Mexico, Pope Francis stood on a platform above a crowd of 250,000, looking across the border from Mexico to the U.S. Pleading for a different view of migrants he stated, "Let us together ask God for the gift of conversion." In his message, directing prayers for those who have died trying to cross the U.S./Mexico border, the Pope pleaded with nations to show compassion for the "human tragedy that is forced migration." Speaking for all migrants, Pope Francis stressed the need to care for those suffering from violence and poverty, and the pleaded for these people to be allowed to seek a better life.
Pope Francis also spent time visiting a Mexican prison in Juarez, where he was serenaded by a prison mariachi band and greeted 700 inmates. In a short speech he expressed the possibilities of changing their lives and of "writing a new story and moving forward." "You have known the power of sorrow and sin and have not forgotten that within your reach is the power of the resurrection, the power of divine mercy which makes all things new."
During the Pope's visit to Mexico he addressed corruption of church and state, charging the leaders of the Catholic church and politicians of Mexico alike, for the suffering of the poor and the corruption in Mexico.
The Pope left for the Vatican after a monumental five-day trip to Mexico.