Nuevo Laredo-An Expat's Semi-Snnual Pilgrimage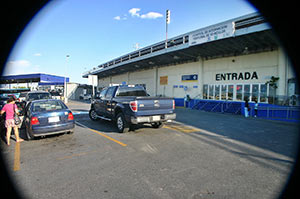 Me and my wife always plan our trips to the border in advance. Why? To take advantage of low, low prices on high quality merchandise! For an expat, crossing over to the U.S. is a nice thing to capitalize on when you can. Electronics are much less expensive north of the border, as are automobiles and quality clothing, so it's good to make a shopping list. However, rent and other costs of living are more than twice as much in the U.S., depending where you live. And, overall things are about one third the cost here in Mexico.
Low costs on rent and various other things are a great upside to life in Mexico. However, there are some hoops that we gringos have to jump through to get the good life; especially if you plan to bring your car with you.
Having a car with U.S. plates can be a benefit. In Saltillo I personally haven't had any bad experiences with the law enforcement. I have heard that it's actually better to have U.S. plates. Most Mexicans in my area treat Americans with kindness and respect because much of the local economy relies on American-owned companies.
You can change your car to have Mexican plates, but your car needs to be less than 10 years old and you have to pay a fee. However, having Mexican plates may be problematic if you want to take your vehicle back to the U.S. Since I enjoy road trips back to my home country, I was advised not to change my plates by friends who have worked in law enforcement. Thus, each month I get to return to Nuevo Laredo, Tamaulipas, to renew my foreign car permission.
To be more specific, foreign cars need to register when they enter Mexico. You can ask a soldier at the border crossing where to do so. I hope you have good Spanish.
Tourist Permit
To get your car permission you also need a tourist visa. Americans can get a tourist visa or FMM that lasts up to six-months.
Temporary Vehicle Importation Permit
Your car permission or temporary importation permit will also last for six-months. You have to pay some fees and you will have to pay a deposit on your vehicle that will be returned once you come back with it six-months later. The deposit amount is based on the age of your vehicle. Remember you have to physically bring your car back: not just the papers, or you will lose your deposit.
Luckily Mexican clerks at the border offices are quite friendly as well as professional; however they don't seem to be so savvy with English. They will also give good local advice. Border cities can be chaotic. Me and my wife were advised not to be on the roads in Nuevo Laredo after 6 pm because of the crime in the area. A lot of smuggling happens at that crossing. There is little police presence. Instead the area is patrolled by Mexican military since they are less corruptible than police. Don't worry, they don't usually bother Americans as long as you abide by the laws.
However, don't let this scare you. The border cities are quite safe during the day. If you're stuck in New Laredo overnight just get a hotel, or to be on the safe side you can always cross back to Texas. It's just a short wait on the international bridge over the Rio Grande back and forth for the extra peace of mind.