November 2013 Events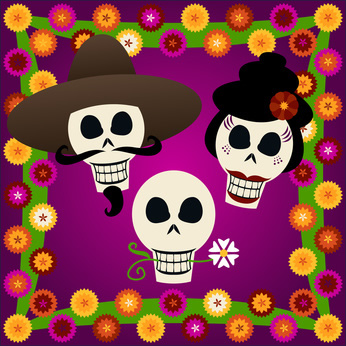 I apologize for the delay in getting the November Events schedule out. This has been a busy Month at Mexpro. We have been trying to make many improvements to our site so it's easy for you to use it when you are looking to buy car insurance for a Mexico trip, but also looking for information on Mexico.
November and December are two of the best months for visiting Mexico. While the weather in the U.S. and Canada turns dark, grey and chilly, Mexico stays warm and sunny. There are so many great events & festivals it will be hard to decide which you want to attend. Mexico's friendly atmosphere is more inviting than ever with all that's happening as we move into the holiday season. I hope you can make it some of these, they are some of the best!
Mazatlán Cultural Festival
Mazatlán, Sinaloa
October 15 to December 15
Since 1993 the Mazatlán Cultural Festival has celebrated the participation of local, national and world renouned artists. Performances will take place in neighborhoods, churches, plazas, Olas Altas, the streets of the Centro Histórico, the Convention Center, the Teatro Angela Peralta and the military prison (first time ever). gomazatlannow.com
Fiesta del Mar (SeaFest)
Puerto Vallarta, Jalisco
November
Events are held at the coastal Marina Boardwalk and include jet ski racing, art exhibitions, beach games and a large boat show.
2013 Xcaret Festival of Life and Death Traditions
Playa del Carmen
October 30 - November 3
The Xcaret Festival of Life and Death Traditions celebrates two holidays that honor passed loved ones: Dia de Muertos (Day of the Dead) and Hanal Pixan (Food of Souls), which is the Mayan version of Day of the Dead. www.festivaldevidaymuerte.com
Dia de los Muertos (Day of the Dead)
Celebrated throughout Mexico
October 31 - November 2
Dia de Los Muertos is a celebration of Mexico's dead. They are honored and celebrated during this fantastic and elaborate holiday. Look for a blog post by Al Barrus on Dia de los Muertos tomorrow.
San Felipe Shrimp Festival
San Felipe, Baja
November 1 - 3
You don't want to miss the amazing shrimp dishes that are prepared at the opening of shrimp season. Along with cultural events, wine & Tequila tastings, you'll enjoy local art and performances. You won't want to miss this close-to-the-border event. sanfelipeshrimpfestival.com
Festival de las Calaveras
Aguascalientes, Aguascalientes
November 1 - 10
Also known as the Festival of Skulls, Festival de las Calaveras is one of the best Aguascalientes attractions. The entire City comes alive colorful during the celebration to honor those who have passed away. www.festivaldecalaveras.com.mx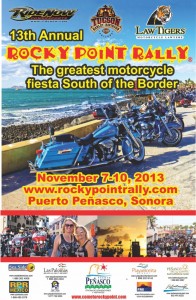 Rocky Point Rally
Rocky Point/Puerto Peñasco
November 7 - 10
The Rocky Point Rally® is a gathering for bikers from throughout the U.S. and Mexico. For the past 13 years these bikers have come to enjoy the parade, music and fun on the malecón, various events & parties, and beach concerts at area hotels and condo complexes. Don't forget the sunsets and warm weather. Last year 4800 bikers attended. Watch for our blog post about the Rocky Point Rally by one of Mexpro's biking employees, Mike Mercer... rockypointrally.com
6th Annual FORE the Kids, Casa Hogar 2013 Golf Tournament
Cabo San Lucas
November 9
Palmilla Golf Club hosts and 18-hole tournament for $149. Click here to register.
OHL Classic at Mayakoba Golf Tournament
Riviera Maya, Quintana Roo
November 11 - 17
A PGA tournament that takes place on the El Camaleόn golf course at Mayakoba (designed by Greg Norman). This tournament also features a one day Pro-Am competition. www.ohlclassic.com
58th International Fishing Tournament Marlin & Sailfish
Puerto Vallarta, Jalisco
November 13-16
Long-standing fishing tournament with big prizes. www.fishvallarta.com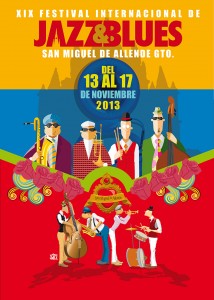 XIX International Festival of Jazz & Blues
San Miguel de Allende, Guanajuato
November 13 - 17
The International Festival of Jazz & Blues in San Miguel de Allende is one of the longest running Jazz Festival in Mexico and very popular due to the Latin American artists who perform. Concerts are to be held at the historic Angela Peralta Theater. www.sanmigueljazz.com.mx
Score Baja 1000 - Off-Road Desert Race
Ensenada, Baja
November 14 - 17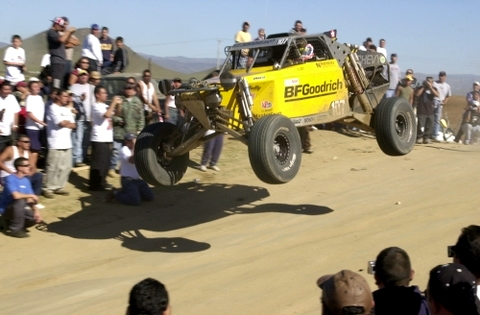 One of the most popular and prestigious off-road races the world-over is the flagship event for SCORE International, and takes place along the rugged boundaries of the Baja penninsula. The race was founded by Mickey Thompson in 1973. One of the most popular Mexican events with around 200,000 in attendance. www.score-international.com
Best of Baja
Rancho Pescadero, Baja
November 14-17
Culinary magicians from northern and southern Baja meet at Rancho Pescadero (an hour north of Cabo San Lucas) to cook up amazing dishes for this special "Best of Baja" weekend. www.ranchopescadero.com
12th Annual Feria Maestros del Arte
Chapala, Jalisco
November 15 - 17
A festival was created to help bring attention and support to Mexican artists. Events take place at Club de Yates de Chapala. Look for the "Artists Choice" booth where you can purchase the "best of the best" items from the most distinguished artisans. www.mexicoartshow.com
Festival de Internacional de Globo
Leon, Guanajuato
November 15 - 18
This hot air balloon festival lights up the skies above the city of Leon. Hosted at Metropolitan Park, the event will also include concerts, contests and more fun for the whole family. www.festivaldelglobo.com.mx
XIX Festival Gourmet International
Puerto Vallarta, Riviera Nayarit, Tepic
November 14 - 23
The Festival Gourmet International is one of the most important gastronomic festivals taking place in Mexico. Enjoy delicious cuisine from the best chefs in this area of Jalisco, during a spectacular 10-day event. www.festivalgourmet.com
Festival de Música de Morelia
Morelia, Michoacan
November 14 - 24
Musicians from around the world come to participate in Morelia's annual music festival. www.festivalmorelia.com.mx
Dia de la Revolucion
Celebrated throughout Mexico
November 20
Celebrations take place throughout Mexico on November 20 commemorating the anniversary of the Mexican Revolution of 1910.
Festival del Chocolate
Tabasco
November 20 - 24
turespacio.com
Los Cabos Big Game Charter Boat Classic
Los Cabos, Baja
November 22 - 23
With a FREE entry to anyone fishing on a Los Cabos Charter boat, this fishing contest boasts a $25,000 cash prize! www.marlinmag.com/los-cabos-charter-boat-classic
Festival de las Aves Toh 2013
Merida, Yucatán
November 22 - 24
The Yucatan Bird Festival "Toh" was created and is dedicated to the Turquoise-browed Motmot (Eumomota superciliosa), a bird species associated with Mayan archaeological sites. The bird-a-thon xoc ch'ich' ("bird count" in Mayan) takes place on these dates. www.festivalavesyucatan.com
Festival Internacional de Cine Acapulco
Acapulco, Guerrero
November 22 - 30
Acapulco supports cinema at this annual event. Expect to find outdoor screenings, workshops and courses. www.ficaacapulco.com
Taste of Playa
Playa del Carmen, Riviera Maya
November 24
Taste of Playa Food Festival celebrates the chefs of the Riviera Maya. Enjoy food local to this area. Takes place in the Parque Fundadores from 3 pm to 9 pm. www.tasteofplaya.com
Riviera Maya Jazz Festival
Playa del Carmen, Riviera Maya
November 28 - 30
This jazz festival hosts International and Mexican performers. Takes place outdoors at Calle 28 Norte Mza. 10 Lote 8 entre Zona Federal Maritima y 5ta Av. www.rivieramayajazzfestival.com
27th Guadalajara International Book Fair
Guadalajara, Jalisco
November 30 - December 8
This is the largest Spanish language book festival in the world. More than 1500 editorial houses from 39 countries attend. www.fil.com.mx