Northern Baja California Surfing Destinations
Last Updated: April 18, 2023 by Mike Mercer
Categories:
Baja California Norte Surfing Destinations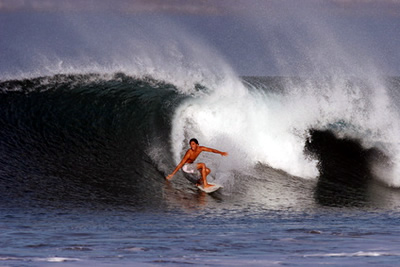 Some of the best surfing destinations in Northern Baja California are located all along the pacific coast. Surfers from Southern California have been flocking to the Northern Baja California region for decades. With a passport, and a Mexico car insurance policy in hand, many great surfing spots can easily be reached, with less than a day's drive.
Rosarito
Rosarito is a coastal resort city and favorite tourist destination, with over a million visitors each year. Rosarito beach first became a popular destination for surfers back in the '70s. Rosarito has previously hosted some noteworthy surfing competitions, including: the Mexican National Surfing Championship, and the Pro-Am Surf Contest. A full wet suit is usually needed during the fall, winter, and spring months, when water temperatures can dip down into the 50's. Getting to Rosarito, from the U.S. border crossing at San Diego, requires approximately 30 minutes of driving time.
Ensenada
Ensenada is the 3rd largest city in Baja California Norte, is not only an important port for commercial fishing, but for tourist cruise ships as well. Because of its great waves, Ensenada attracts surfers, from all over the world, and it is also where Mexico surfing first got its start. In May of 2014, Ensenada's Bahia de Todos Santos was dedicated as a World Surfing Reserve. Ensenada is about a 70 mile drive south from the U.S. border crossing at San Diego, California.
Cabo San Quintin
Bahía de San Quintín, which is situated a couple of hundred miles from the U.S. border, has been designated as "Wetlands of International Importance." The primitive unimproved road to Cabo San Quintin is extremely rough and requires the use of high clearance four-wheel drive vehicle. Because of its remoteness, you typically will not encounter the crowds that are often found at most of the other popular surfing areas around the Baja Peninsula. Water temperatures around Cabo San Quintin can be extremely cold, so a full wet suit is recommended.
Seven Sisters
The Seven Sisters, include: Punta Cono, Punta Maria, Punta Lobos, Punta Negra, Punta Rocosa, Punta Santa Rosalillita, and Punta Rosarito. The Seven Sisters are a series of right point breaks along the southwest coast of Baja California Norte. Winter water temperatures can be extremely cool, sometimes as much as 10 degrees cooler than the water temperatures around San Diego. The area is about a 400 mile drive from the U.S. border crossing at San Diego.