News from Raechel Running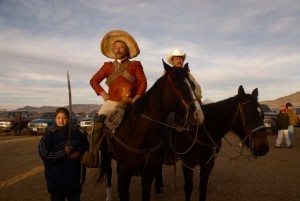 In the past I have posted several articles from Raechel Running. Raechel is a well-known freelance photographer whose work reflects her interest in social and environmental concerns within and beyond the borderlands of Mexico. Raechel spends half her time living in Chihuahua, Mexico where she documents life and projects there via "visual poetry." Below we've included some of Raechel's upcoming events. Please also see her website at RAEchelRUNNING.com to learn more.
In June Raechel will present to the Mexican Cultural Institute in NYC about life in Chihuahua and the borderlands. Click here to read more, Pancho Villa coming to New York!
Raechel's photography was recently featured in the High Country News. The article, entitled, A Mexican rancher struggles to shift from cattle to conservation talks about adventures at Rancho El Aribabi. Raechel spent time there documenting ecotourism and conservation in nothern Sonora. She describes it as a great place for "birding and quietude"!
To learn more about Raechel Running, please visit her website at RAEchelRUNNING.com.
To vote for Raechel Running for the 'Real Heroes of Mexico' project click here.
---