New Vehicle Import Rules in Mexico - How they Handle your Deposit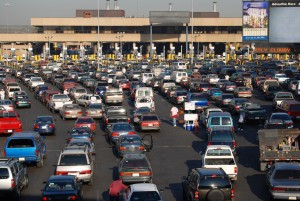 We've had some questions from our customers and those who have read our recent Newsletters about the new Vehicle Import Rules in Mexico. So we wanted to provide you the information about what the law actually says. Here it is...
Piece 1 As of June 11, 2011, by official of la Secretaría de Hacienda y Crédito Público (SHCP), the cost of the Temporary Import Permit Vehicles is $48.84 USD at the exchange into mexican pesos. Also, all importers must leave a deposit depending on the model of the vehicle at the time of processing... After making the cancellation of the permit in any module at the border, the next bank business day will be asked to refund your money to be deposited directly to VISA or MasterCard used. Such reimbursement shall be made ​​according to the exchange rate prevailing on the date made​​, and depending on your bank's internal policies could generate commissions and / or take several days before your bank will put in your account.. On the other hand, if you make the cash deposit (only modules Banjercito Border), the return of Escrow is also made in cash upon termination inside the module.
Piece 2 This deposit is compulsory and can be paid by credit card, debit card, or cash (in US Dollars only). Users must keep in mind that if the deposit is charged to a credit card, the charge will be made in Mexican Pesos and will be calculated based on the exchange rate of the day on which the payment is made. This deposit will be refunded to the same credit card on the next banking business day after the vehicle is fully returned and based on the exchange rate of that day. The vehicle must be returned on time and within the time period stated on the temporary import permit. If the vehicle is returned after the stated time period, the entire deposit amount will be transferred to the Office of the Treasury on the day following the expected return date, as allowed by current law.
So bottom line—there is the vehicle import permit charge and a deposit. The deposit is charged and held, if cash, if the vehicle is returned on time, the deposit is refunded. If the vehicle is not returned by the time indicated on the permit, the deposit is forfeited.
Please let us know if you have further questions and we apologize for any confusion.
---