My Trip to Puerto Vallarta: Part 3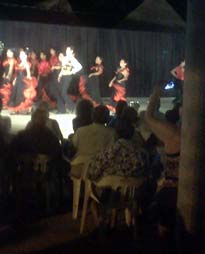 The final day of our trip to Puerto Vallarta, was awesome! I worked selling Mexican insurance all day. Ok, not really, but I have to pretend I worked a little while I was there to appease the suits. ANYWAY, so the day started off well enough, as my wife won us massages at the spa in the hotel we were staying at, by winning a beach volleyball tourney. The other team had no idea that they were up against--the 2000 Thatcher High School Girls Volleyball back row/serving specialist, and, well, she let them have it, Bum leg and all. I'm not going to lie, it was great to be rewarded for her hard work.
We then went on a tour of Puerto Vallarta, complete with a history that seemed, well probably like what this blog post seems like, never ending and not funny. The tour ended at the Malecon, having seen the sights we wondered a little more off the beaten path than before, and ran in to the kids we saw practicing for the Dance Festival the first night. Awesome! Since I can't describe it, I was able to find a YouTube video to share just a taste. I wish they had video of the younger groups; they were so entertaining...not as polished, but equally passionate, and, in my opinion more entertaining. The Group was called, Grupo Folclorico Xiutia.
Final lesson for the evening? Buses stop running at 11. Oops!