My Trip to Puerto Vallarta: Part 2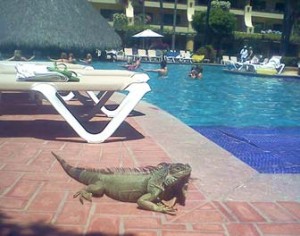 The next day of our trip to Puerto Vallarta, was full of work, bleh...who goes to paradise to work? This guy! Well, it wasn't all work after several meetings, my wife and I had the opportunity to do a little shopping. We have to bring something home to the kids right? We decided to go to two places. The Mall, pretty mallish, and no Nikes don't cost less in Mexico. Really, neither did anything else we looked at in the mall (dress shopping for a Wedding in Mexico...yuck).
We then hopped a bus to go north to a little town to the north of Puerto Vallarta, called Bucerias. We heard there was some shopping there, and I had an agent to visit in the area. We weren't exactly sure where we were going, but it was refreshing to get out of the tourist side of things, and enjoy the real Mexico. As it turns out we found what we were looking for--my friend, the shopping, and the real side of Mexico. Yes, at least for a little bit, a cramped bus, cobble stone streets, and a simpler life. It was marvelous.
We then headed to the hotel to hang out by the pool, and swim with an iguana. Well that wasn't really the intention, but it's what happened. Sure enough my wife had just entered, and apparently looked refreshed, when this monster of an iguana joined in swam right across the pool and plopped him (or her) self in the shade. Hey, the shortest distance between two points is a straight line, right? So, why not? I once read that iguana's had small brains. All I can say is that this guy/or gal seemed pretty smart to me. Doesn't he look like he owns the place (sorry for the washed out Picture, I only had my phone).