My Trip to Puerto Vallarta: Part 1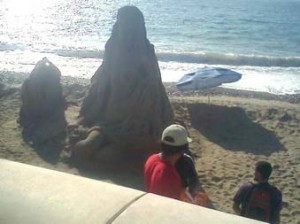 Recently, my wife and I had the opportunity to visit Puerto Vallarta, Mexico. I have been all over Mexico, but never to the South West Coast. I have to say it was a great experience. While I will reserve the stories of lounging at the beach and pool, drinking virgin piña coladas, or pitching my Mexico Car insurance wares to agents in the area--to myself, there are several notable stories I would like to share.
We arrived in the evening, my wife who had been to PV years before wanted to revisit the Malecon (or boardwalk), so we headed that way. Knowing it was in the Centro, we hopped on a bus with that description figuring we would get there sooner or later, and we did. Along the way we saw a very modern city. We later learned that most of the city's growth had occurred since the early 1960's when John Huston and Elizabeth Taylor brought much American attention and investment to the area.
A Wal-Mart, Sam's Club, a mall, and a Mega are notable points along the main road with a beautiful bay to the west. Slowly we got to an older part of the town, where traditional Mexican architecture started to become more prominent. We followed an older couple off the bus assuming they were headed to the same area, indeed they were. The Malecon was magnificent. It was a vibrant place with numerous restaurants, shops, and of course the requisite time-share salesman.
The slime factor not withstanding (no offense James), I love being outdoors in the evening in Mexico. The sound of the waves crashing on the rocks the smell of fresh fruit, corn grilling, and wafts from the nearest tacos cooking were marvelous. Not to mention the sights. Of course there were green copper statues of mermaids, a kid riding a seahorse and other semi-familiar sites, but there was the Danza de los Voladores, a mime and his dog, a kid singing at the top of his lungs as his dad played the guitar and sang harmony, and sand artists. I don't mean castles; I mean a three foot high depiction of La Virgin de Guadalupe, Mermaids, a coral reef out of sand and other magnificent works. As we reached plaza central, there were kids practicing for a Dance Festival, but more on that later, and a magnificent cathedral.
We ended up eating at a little restaurant on the Malecon. My wife opted for the tacos, I opted for a dish I had never had called Molcajete, which is actually the word for a stone bowl. I wasn't sure what to expect. In the bowl came a "soup like" dish with steak strips, shrimp, cheese, nopales (prickly pear), and chicharones (Pig Skins). It wasn't bad. Of course we washed it down with our favorite Coke product, Manzana Lift…marvelous! The view of the bay was incredible, the company was even better.