My First Time To Rocky Point Mexico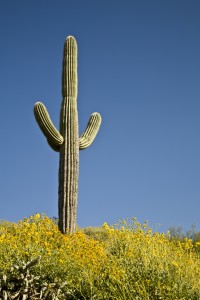 I have to say, travelling with three kids under the age of seven to a foreign country was initially daunting, but with the confidence of those around us that we would have a good time, we did it!  We are glad we did.  It was an easy drive from
Flagstaff, Arizona despite a little rain here and there on the way down. It only took us five hours (a minor trip compared to an eight hour drive to go to an overpriced tourist trap like Disney).
Coming up to the border, we drove through the very scenic and lush desert landscape that looked like it had never been touched by human hands.  Our boys joked about all the "locals" (the Saguaro Cactus) waving hello.
Upon entering Mexico, we did not even have to stop and talk to anyone but were told that the authorities would only ask about what type of fruit you had as well as if you were bringing any weapons.  The short drive through the border town of Sonoyta was smooth, and getting to the highway to take us to Rocky Point was just as simple.  At this point, the kids were getting a little restless and demanded to "See the Sea!"  After forty-five minutes, we pulled into the Sonoran Sky Resort, a colorful palette that was easy on the eyes but bright enough to know you were in Mexico!
The Sonoran Sky was fantastic!  It was a mature crowd, but not so mature you had to dodge oxygen tanks.  They had three pools and a waterslide that my kids were a little too young to use, but they did enjoy the pools.  Merely steps away was the Sea of Cortez, where we spent most of our time jumping waves and collecting sea shells.  The beach was never busy, and surprisingly clean.
In the town of Puerto Peñasco, we enjoyed the fish market and the "chicken shacks" (amazingly fresh spit-fired chicken tacos) that were scattered throughout.  We were originally a little hesitant but once the food hit our lips, there was no going back.  We also frequented Wrecked on the Reef-- a little pricey but a fantastic menu including bacon wrapped shrimp (I could have eaten that alone for the four days that we were there).  At the Sonoran Sky, my kids really enjoyed the shrimp cocktail at the tiki bar.  If you haven't figured it out yet, Rocky Point is a shrimp mecca, and with living in Arizona, having fresh seafood is a treat indeed.
After our stay, we drove to the US border and painlessly answered a few questions at the checkpoint and we were on our way.  The border agent even let our two year old finish his apple (fruit is not allowed across the border) after he received "the look" from our son, who knew he may have to give up his precious apple.
All in all, what a great experience!  Rocky Point, we will be back again, and again, and again.