More on the Mordida - Bitten by the Mordida in Mexico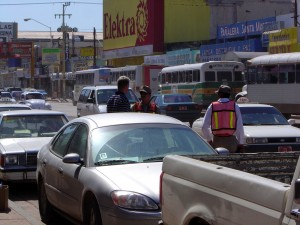 BY Lori Rackl, Travel Editor, Chicago Sun Times
During a Mexico vacation last month in Puerto Vallarta, Bill and Julie Heitz of west suburban Glen Ellyn were driving to dinner with a couple of friends who own a timeshare in this popular tourist spot.
Shortly before reaching their restaurant, Bill Heitz, 67, was pulled over by three men in police uniforms. Here's his account of what happened:
Waving a baton, one of the officers motioned Heitz to the side of the road. The officer walked up to Heitz's rental car and told him he was getting a ticket for running a stop sign. Heitz told the officer he didn't see a stop sign and was just following the car in front of him through the intersection. That car, with Mexican license plates and containing what appeared to be a Mexican family, also had been pulled over. But the police quickly let that car go. Heitz suspects the officers were looking for tourists, not locals.
The officer took Heitz's driver's license and told him he owed a fine of 800 pesos ($62). He could pay it the following day at a place rather far away, north of the airport.
"My wife asked if there was any way we could pay the fine tonight," Heitz recalled.
"Why yes," the officer said. He could pay right here, right now: 500 pesos.
"I gave him 500 pesos," Heitz said. "He handed me my license back. No ticket."
In Mexico, it's called the "mordida," or bite — a bribe paid to get out of hot water with unscrupulous authorities, who have been known to trump up bogus traffic charges against tourists — and locals.
"I didn't want to be screwing around with these folks; paying the $42 seemed to be the easiest way out of it," said Heitz, who walked back to the intersection after dinner. There was no stop sign.
To be sure, this kind of corruption isn't confined to Mexico.
I remember relying on my high school German during a shouting match with a couple of crooked cops in what is now the Czech Republic, shortly after the Iron Curtain fell. They said I was speeding. I wasn't. When I'd run out of German verbs, I reluctantly forked over 20 deutsche marks. They gave me back my passport and sent me on my way with a "Guten tag!"
While no part of the world is immune to shady authorities looking to get their palms greased, Mexico's mordida is a well-known phenomenon. The U.S. State Department's Web site notes that Americans "have become victims of harassment, mistreatment and extortion by Mexican law enforcement and other officials" and "tourists should be wary of persons representing themselves as police officers or other officials."
The State Department recommends that Americans take down an officer's name, badge number and patrol car number if they want to file a complaint, and reminds visitors that "offering a bribe to a public official to avoid a ticket or other penalty is a crime in Mexico."
Claudia Quiroz, a spokeswoman for the Mexican Consulate in Chicago, said fines for traffic tickets in Mexico are paid at the local police station — never to a police officer directly. If an officer is asking you to pay a fine on the spot, Quiroz said you should politely refuse and ask for the ticket instead. If the charges are fake, the officer likely will be reluctant to pursue it further.
Quiroz said the mordida problem is "getting better, slowly but surely," but tourists need to be part of the solution by refusing to play the bribe game and "sticking to the right way to do things."
"Mexico is doing a lot of efforts to finish with this practice," she added.
A couple of years ago, Mexico City started a corruption hotline — 089 — that visitors and residents can call to make an anonymous report about potential abuses of power in the country's capital.
In Mexico's Baja California state, officials are working on plans for a bilingual, tourist-focused police force to patrol a 50-mile tourist corridor from Tijuana through Playas de Rosarito to Ensenada. The plan calls for San Diego cops to help train the officers.
Recognizing that mordidas don't help tourism — the third largest industry in Mexico — the private sector has joined in the fight, too.
"In the Cancun and Riviera Maya municipalities there has been a joint effort between car rental companies and local authorities to provide car rental customers with information in each car that lets them know that if they get pulled over for what might seem a questionable traffic violation, they are supposed to be given up to two warnings before they are actually issued a citation and fine," said Alberto Gomez, an executive with Avis in Mexico.
Cancun police were caught in an embarrassing situation earlier this year when officers demanded $300 (U.S.) from the driver of a rental car filled with five American tourists — one of whom happened to be a state senator from Minnesota.
When Sen. Michelle Fischbach got home from vacation, she wrote a letter to Cancun's mayor explaining what happened. The offending cops were canned, and the City of Cancun sent a check to Fischbach for the equivalent of $300.
Mexico tourism officials stress that the mordida is the exception, not the rule.
"In 2008 we received 18 million American tourists," said Chicago-based Rodrigo Esponda, Midwest director for the Mexico Tourism Board. "For that amount of tourists, we hear very, very rarely about this. Honestly, I don't think it's a very common issue."
Esponda encourages tourists who feel like they've been treated unfairly to report it to one of the six Mexico Tourism Board offices in the United States. You can reach the Chicago branch by calling (312) 228-0517, ext. 15, or e-mail chicago@visitmexico.com.
It doesn't hurt to alert the local U.S. Consulate office in Mexico, either. E-mail addresses and phone numbers for those offices can be found on the Web site https://www.usembassy.gov/mexico/.
"We really appreciate the feedback," Esponda said. "We'd like every tourist who goes down to Mexico to have a very pleasant experience — and most do."
With the exception of being bitten by the mordida, Heitz's visit to Puerto Vallarta was just that: a very pleasant experience.
"The folks were very nice. All the merchants were accommodating," he said. "I'd go back down there again. But I don't know that I'd drive."
What to do if you're about to get bit
Advice from bloggers and Web sites on how to handle getting stopped by a crooked cop in Mexico:
We notify the officer right off – first thing - we live here in Mexico. Occasionally that alone will end the bribe attempt. Their designs are on the fearful and uneducated. They don't need to get into a verbal joust or engage potential problems – there are plenty of others, read most that will fearfully and willingly shell out the dough.— Viva Veracruz Blog

Play along: If you happily agree that you would love to drive 30 miles out of your way and stay in the middle of nowhere for an extra night so you can pay the fine, this will likely confuse the police officer. Accustomed to anger and arguments at this point in the bribe scenario, they will be thrown off guard with your willingness to comply with their ridiculous demands ...mthe police officer will often realize you have called his bluff, hand you back the documents and let you continue on your way without paying any bribes. — Drivetheamericas.com

Before giving them your license, ask for their name and badge number: You gain leverage now because you can later easily identify the official. They would rather remain anonymous. You also let them know that you know what you're doing and are not an ignorant tourist that they can easily manipulate. Once they have your license, they have a certain amount of power over you. You may (and should) refuse to surrender your license until you have recorded this information. Let them see you write it down. If you can't communicate in Spanish, use hand gestures to explain you want to see their badge. (Note: Most officials wear their badge on their chest, which allows you to easily see their name and identification number. If they're not wearing their badge or refuse to give you that information, you can bet they plan on trying to take advantage of you.) — Crosschronicles.com

Recognize the "scam" for what it is and be willing to pay the roadside officer just to get on with your vacation: If you elect to do this, $10 to $20 (U.S.) is the maximum to pay for such "vacation convenience." If they want more than this, go to the police station and pay the actual fine for the violation. — Cozumelinsider.com

Should you pay a mordida or bribe? I never do. Well, I did once, but I was in a hurry to get back and didn't have the time to fight it. In general, if you can hold out, you can get away without a fine. From a moral standpoint, he who pays a bribe is as guilty as he who asks for one. — Mexicomike.com