Mexico's Modern City of Monterrey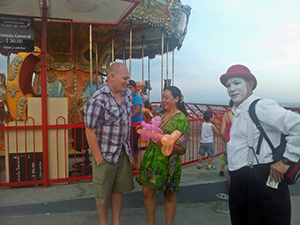 When living in Saltillo, Mexico, Monterrey is your go-to place when you need some sort of big-city fix. While my home city, Saltillo, has more than 650,000 inhabitants, it lacks many of the features of a more modern economic hub. Luckily Monterrey is just a 40-minute drive from where I live.
From the onset, Monterrey seems void of culture compared to other cities in Mexico. However, if you dig deeper there's plenty culture. It is, after all, more than 400 years old. But what really makes Monterrey special is how modern it is.
I have family who live in the central area of the city, and property prices are considerably higher than those in Saltillo. Monterrey is actually the wealthiest city in Mexico, with the highest average income. And, it's GDP is only second to the nation's capital. This is made apparent by the architecture. While the downtown area isn't built up with high-rises like you see in American cities, there are some very fancy condo buildings scattered upon the hills.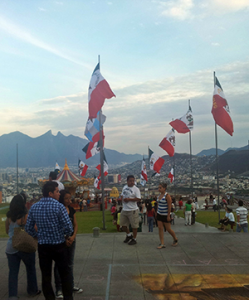 Driving around the city you can spot some very unique modern artwork. The central plaza, I'm told, is among largest in the world of its type, second to Moscow's Red Square.
While Monterrey isn't very populated compared to many other Mexican metropolises, it offers a great variety of sites to see, natural and architectural. Relative to Saltillo, Monterrey is down in a valley, surrounded on many sides by sheer hillsides and mountain cliffs. The most popular of them is called Cerro de la Silla, which has a very distinct horse-saddle shape to it. My wife and I had our wedding-invite photos taken against a cliff vista on the outskirts of the metro area.
My step-father's cousin calls Monterrey home. I knew him when I was growing up in Washington State when he was a young man working construction in the Seattle area. He told me some interesting stories about his home city's history.
When Mexico declared its independence from Spain in the early part of the 19th century, the new nation was still very fractured. Monterrey is the capital of the state of Nuevo Leon, and for a time it was known as the Kingdom of Nuevo Leon. Forces from Monterrey annexed the surrounding areas including Saltillo (home to the then provincial capital of Texas), as well as the coastline city of Tampico. Monterrey's position between Saltillo (central of government), San Antonio (gateway to the U.S. market) and Tampico (the largest sea port of the area) is what made it such a successful economic hub.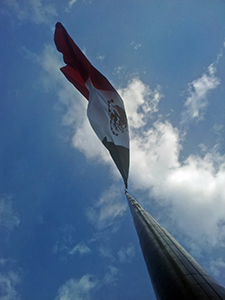 I visited a fun tourist spot in Monterrey. There's a hill that's easy to find, because of the giant Mexican flag that sits atop it. This was, for a time, the largest flag in Mexico. Upon the hill are several vista points with little guide maps that tell tourists where to spot the factories and businesses that make Monterrey what it is. There are many other flags below the larger flag of the republic including banners from the old Spanish empire and a military Gideon that looks like a pirate's flag. I'm told that the U.S. Army took Monterrey during the 19th century and the stars and stripes once stood on this hill.
Monterrey often makes international headlines for some of the cartel violence that goes on here. In 2005 Monterrey was named the safest city in Latin America. It no longer holds that title, but keep in mind most of the violence here goes on between the narcotic gangs, and the Mexican military and police. It's still relatively safe. I saw several other North American tourists during my visit.
It's also nice to note that Monterrey is only about a two-hour drive from the border, making it a nice out-of-country vacation destination. I traveled to Monterrey in 2010 for Lasik surgery because of the competitive rates. The economy alone is a good excuse to travel. Remember to buy your insurance before crossing the border.