Mexico's Military Expo for Revolution Centennial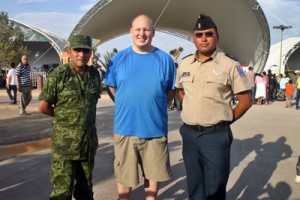 It was 100 years ago on March 23 when history was made here in the State of Coahuila. A document was drafted, known as "The Plan of Guadalupe," as a sort of new constitution for Mexico. The Mexican revolution of the early 20th century was mentioned plenty during the 2012 U.S. presidential race, when Mitt Romney explained why his grandfather left Mexico.
Those were dangerous times for land owners. The majority of Mexico's wealthy classes were against the revolution, as it was led by the working poor and very few of the country's official leaders were for the overthrow of the federal government. However, the governor of Coahuila, Venustiano Carranza, while he was wealthy and privileged, believed in the rights of the people. When the federal government was toppled and the president Francisco I. Madero was executed the country needed direction.
In 1913 the Plan de Guadalupe (named after the Mexican version of the Blessed Virgin) was drafted in the hacienda of Venustiano Carranza, here in Coahuila, not far from Saltillo in the bordering municipality of Ramos Arizpe (which is where my in-laws live).
That's some fun history. Even though I've only lived here for a year and a half I feel a bit of pride for Coahuila. I'm not averse to national pride. I did after all serve in the Army after high school and in a foreign war. I have a bit of an attraction to military stuff. Quite often I see Mexican soldiers and marines patrolling the highways here, and I cross through the checkpoints they set up when looking for high value drug traffic targets. I saw many of these same tactics and exercises in my own military experiences.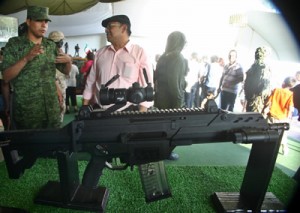 Right now at the Museo Del Desierto there's a military exposition going on to commemorate the centennial of the Plan de Guadalupe. The expo is called "Armed Forces: Passion to serve Mexico." It started a week ago and I've heard you can check it out for the remainder of the month. It's free and gives ladies, gentlemen, and children of all ages a chance to meet Mexico's men and women in uniform, as well as get an up close look at many of their toys. I went with my wife Vere, and my step-father Ricardo who was visiting from Washington State.
This was a great experience for me. Mexico's Army and Marines use much of the same equipment I interacted with when I served. They also have on-display plenty of the old weapons from the revolution, such as the Marlin repeater rifle 30/30 which I'm told is credited for the success of Pancho Villa in the war more than 100 years ago.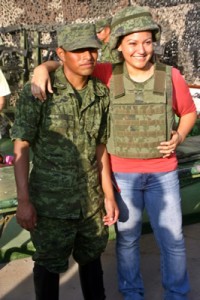 My Spanish is getting good enough now that I can hold intelligent conversations with strangers. I was a military journalist and am quite accustomed to chatting with troops. When I asked the solders military questions they were impressed and wanted to know how I knew what I knew. When my wife told them I had served in the American war in Iraq they were honored to meet me and wanted their photo taken with me.
I was also very honored to have my photo taken with these troops. Though we come from different backgrounds, the fact is that the uniformed men and women of Mexico face a very real every-day danger in securing their country amidst a heated conflict with the narcotic traffickers supplying the U.S. market.
If you're in Saltillo during the month of April this is a great tourist activity. The soldiers, like most people here, are very friendly, helpful and respectful, and they are happy to photograph with Americans.