Mexico's Best Surf Spots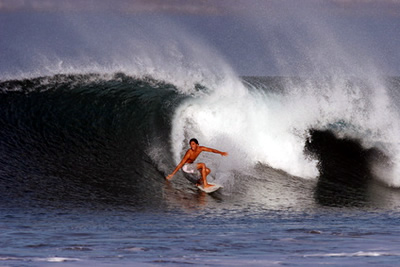 These are the 10 Best Surf spots you can drive to, according to the Mexico Guru:
Sayulita, Nayarit - Consistently good waves and therefore a large community of surfers. There are frequent surf contests in Sayulita. You can expect a north swell from December to early April.
Pascuales, Colima - Very powerful, large beach break. Experienced surfers only.
Mazatlan, Sinaloa - Year-round great conditions for the beginner through expert. Playa Bruja, Playa Olas Altas, Cerritos Beach, Cagadazo Beach and Playa Los Pinos have the best waves.
Todos Santos, Baja California Sur - Between Los Cabos and Todos Santos there are many good breaks.
Ensenada, Baja California - Santo Tomas north of town is good and camping is available. Fall and winter are best, but bring a wetsuit.
Huatulco, Oaxaca - La Bocana beach, Barra de la Cruz, 20 km east is great. Summer and fall are the best times to surf here.
Punta de Mita, Nayarit - You can find good waves off the beach, near the end of the point in Banderas Bay.
San Pancho, Nayarit - The waves are small, but you can find better ones in Sayulita (10 minutes by car). Costa Azul offers a nice place to stay, as well as daily minivan trips to surrounding surf areas.
Los Cabos, Baja California Sur - The surf spots exist mainly outside the resort, on the Pacific.
San Blas, Nayarit - Las Islitas was once famous for the longest wave in the world - now a good jetty and shore break are found at Borrego Beach. The best surfing is done during the summer. Pompis Ramada on Borrego is a popular hang out.


Before you go, don't forget to get Mexico Car Insurance from www.Mexpro.com.