Mexico wants Canadians to Venture Beyond its Beaches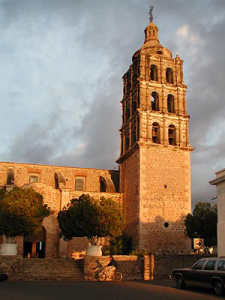 By Brandie Weikle at thestar.com
You know the beach. Mexico wants you to see more.
In fact Mexico's Secretary of Tourism is in Toronto to announce an ad campaign geared at enticing tourists with the lesser-known offerings of the nation.
The delegation is also promoting 10 new "Routes of Mexico," a travel program that connects multiple cities under themes that tourists can pick according to their interest. These can either be purchased as a package or planned independently with an operator according to budget and desired length of visit.
Secretary Gloria Guevara said that while Mexico may be thought of as a beach destination, her hope was to help tourists "learn about places you didn't know existed," such as a cave full of swallows as deep as the Empire State Building is tall, or the world's tallest pyramid.
A former travel industry executive named to her cabinet position in March, Guevara said the tourism industry in Mexico is copying best practices from other markets, citing castle tours of Europe and the success of Italy's Tuscany region in selling itself for its beauty and cuisine.
The 10 routes each end in a sunny destination, she explained, but highlight Mexico's food, culture and history.
This comes during a year when Foreign Affairs and International Trade Canada advised against non-essential travel to Ciudad Juárez – a city in Mexico's north, across the border from El Paso, Texas – "due to escalating violence linked to drug trafficking." Two American nationals were shot to death in Ciudad Juárez on March 14.
"We know that there were some isolated incidents in some parts of Mexico," acknowledges Guevara.
But she insists the country's tourism industry has experienced no downturn as a result.
"We've had an increase in number of travelers from abroad," she says, "including 9 per cent more Canadians."
She adds that a study of 26,000 travellers found that 97 per cent said they'd come again.
Nevertheless, she's launching a hotline this summer that tourists can call if they experience "any inconvenience." The person on the phone will act as a sort of ombudsman to resolve problems.
Mexico's Ambassador to Canada, Francisco Barrio, also spoke to the Star about Canada's importance to the Mexico's travel industry.
"You can't understand the relationship between Mexico and Canada without speaking of tourism," he says. Canadians stay in the sunny destination for an average of 11 nights, compared to the average American visit of three or four nights. "You need three Americans for every Canadian, so it's very important for us."
"We have found that when the average Canadian thinks of Mexico he is usually thinking of beaches and sun and Corona beer and that's it," he continued. "I think this new campaign is most opportune and relevant because there are many, many things that Canadian could enjoy in Mexico but seem not to know."