Mexico Traditional Holiday Celebrates Death
Mexico's Día de los Muertos Festivities
Day of the Dead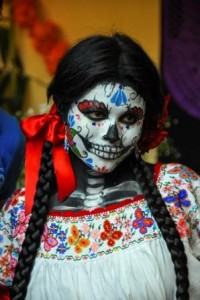 Día de los Muertos ('Day of the Dead') is a Mexican holiday, which celebrates the lives of loved ones who have passed on. It is a time for remembering those family members and friends that have already departed from this world. It is also said that the spirits of dead come back to visit their loved ones during the holiday. The three day celebration begins on October 31st, All Hallows' Eve, which is more commonly referred to as Halloween in the U.S. The event then continues on November 1st, All Saints' Day, when many in Mexico pay honor to deceased infants and children. The final day of the celebration takes place on November 2nd, All Souls' Day, when many go to the cemeteries to visit the graves of their deceased loved ones.
Altars with Offerings
Ritual altars are set up and decorated with photographs of the deceased, along with other objects of remembrance. Food and drink are also typically set out on these altars as offerings to the dead. Pan de muerto ("dead man's bread"), tortillas, fruit, mole, tamales and skull-shaped sugar candies are all common food offerings. Flowers are also often seen as part of Día de los Muertos altar decorations, especially marigolds, which symbolize death in Mexico. Candles and incense are also lit to help the familial spirits find their way back to the altar each year. On occasion, a wash basin, with soap, and a towel are also included in the offering, so the dead can wash up, once they reach the altar.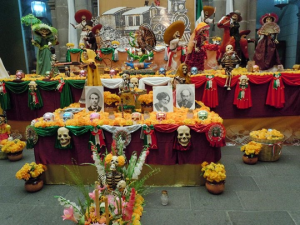 Lady of the Dead
When the Spanish conquerors first arrived in the Americas, the Pre Colombian cultures had already been conducting celebrations for their dead ancestors, for thousands of years. The skulls of slain enemies, were often kept as trophies, and would be bought out and put on display during month-long death celebrations. Many Pre Colombian deities are often found depicted with skull faces, but it was the Aztec goddess of the dead, Mictecacihuatl, who watched over the bones of the dead, and who evolved to become La Calavera Catrina, the modern day Lady of the Dead, who now presides over the Día de los Muertos festivities. Skull masks were also often used during ancient death ceremonies, and that tradition appears to have morphed into the modern day practice of painting one's face to look like a candied sugar skull.
Visiting Mexico for Day of the Dead
Día de los Muertos celebrations typically include music, parades, fairs and parties taking place throughout all parts of Mexico. If you have travel plans, or even if you decide at the last minute, to drive down to Mexico, to join in the celebration of the dead, don't neglect to buy Mexico insurance for your vehicle.