Why to Carefully Choose a Mexico Auto Insurer
Mexpro is the place to go for quality Mexico car insurance!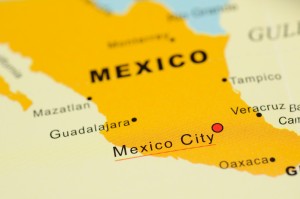 If you are planning to drive your vehicle to Mexico, you will want to be sure to purchase Mexican insurance. At a minimum, a Mexico auto insurance liability policy should be purchased before you go to Mexico, even if you already have a U.S. policy that extends physical damage coverage across the border. Purchasing Mexico auto insurance is easy, when you choose to work with the insurance professionals at Mexpro. Our easy to use online quoting system is set up to provide side-by-side Mexican auto insurance comparisons. Whether you are looking for short term Mexican car insurance for a cross-border shopping trip, or needing an annual Mexican auto insurance policy, we can help.
Mexico auto insurance companies are not all equal
Choosing to work with the right Mexico auto Insurance provider can make a world of difference when a loss happens and it comes time to file a claim. Just like in the U.S. or Canada, it is best to purchase Mexican auto insurance coverage from only reputable and reliable companies. Mexpro makes finding quotes with trustworthy and dependable Mexican auto insurance companies simple by only offering the best Mexican auto insurance providers, through a state-of-the-art online comparative quoting system. Mexpro is proud of the exceptional Mexican car Insurance coverage provided by Grupo Nacional Provincial , ABA Seguros, and El Aguila Seguros. They have been working with each of these outstanding carriers for close to a decade. Also, Mexpro only represents insurance companies that are considered to be financially secure and have demonstrated their strength by earning no less than a "Good" rating from A.M. Best.
Mexpro's Mexico insurance companies
ABA Seguros Mexican Insurance
ABA Seguros specializes in: Mexico insurance for cars, trucks and SUVs; Mexican motorcycle insurance; and Mexican RV Insurance for Motorhomes and Travel Trailers. ABA Seguros was originally founded under the name Insurance Aztlan, in 1956, in Monterrey Mexico, and has since grown to have thousands of employees, with offices in the majority of Mexican states.
Grupo Nacional Provincial Mexican Insurance
Grupo Nacional Provincial Seguros, often referred to as GNP Mexico Insurance, is another of the "A rated" Mexican auto insurance companies, that Mexpro chooses to work with. GNP Insurance Mexico was first established in 1901, and they still remain one of the largest Mexican insurance companies today. With thousands of employees and service offices located throughout the country, they are an excellent choice for anyone needing Mexico car Insurance.
ACE Seguros Mexican Insurance
ACE Seguros Insurance is a branch of ACE Latin America, and part of the ACE Group, which is one of the largest insurance and reinsurance companies in the world. The Mexico division of ACE was established in 1999 and they currently offer insurance products for Property and Casualty, Life, Health and Financial needs. Not only do they offer excellent Mexico car Insurance, but they also provide economical Mexico boat insurance, as well as incomparable Mexico homeowners Insurance and condo Insurance. Mexico is a land of many wonderful tourist opportunities and ACE Seguros insurance offers coverage to fit the needs of most.
Affordable Mexico Insurance

If you are in the market for Affordable Mexico Insurance from some of the best Mexico insurance companies available, then Mexpro is the place to go for quick and easy, one-stop comparative insurance shopping. Based on their long term experience and the financial stability of each of the carriers that they offer—any Mexican auto insurance policy purchased through Mexpro is a great choice.