Mexico Summer Road Trip Documents
Last Updated: August 4, 2021 by Mike Mercer
Categories:
Documentation Required for a Mexico Summer Road Trip
Passport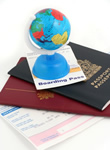 Typically, when driving across the border into Mexico, the authorities will not require you to show your passport. However, the U.S. Department of State requires all adults arriving from Mexico at the U.S. border to have a passport book, passport card or green card. For additional information about obtaining a passport, you can contact the National Passport Information Center, or you can visit their website to Apply for a New Passport.
Mexico Insurance
Neither U.S. nor Canadian auto liability insurance coverage will apply to any vehicle accidents that occur inside Mexico. If you are involved in an automobile accident in Mexico, the law enforcement officials will require you to show proof of adequate Mexican Liability coverage, or else you'll have to have enough cash on-hand to immediately pay for any damages or injuries that you have caused. However, before you decide to carry a stack of cash into Mexico, there are a few things you'll want to consider. If you, and the other travelers in your group, plan to carry more than a combined total of cash that will exceed $10,000, the Mexican Aduana (customs) authorities will require a Customs Declaration form, and the U.S. Department of the Treasury will also require a Report of International Transportation of Currency or Monetary Instruments form, be completed and submitted. And, of course, they will calculate the additional duty fees that you will be required to pay for the extra amount. Also, carrying a lot of cash into a foreign country can increase your risk of being robbed. Realistically, it is a lot simpler, safer, less time consuming, and much more cost effective, to purchase a Mexico Tourist Auto Insurance policy from a reliable provider like Mexpro.com. You may also want to consider purchasing International Travel Medical Insurance from them as well.
Temporary Vehicle Importation Permit
If you will be traveling beyond Mexico's Hassle Free Vehicle Zone, you will be required to obtain a Temporary Vehicle Importation Permit. A temporary vehicle permit for travel to Mexico can be purchased online through the Banjecito website, or at the border.
Tourist Visa
U.S. and Canadian Citizens, visiting Mexico as tourists, for less than 180 days, do not require a visa.