The Best Things Happening in Mexico | September 2014 Events
September is el mes de la patria (or month of the homeland) in Mexico. Everywhere you look you see the colors of the Mexican flag: red, white and green--due to the celebrations of Mexico's independence from Spain. Not only is September a festive time in Mexico, it's a quiet time in the popular tourist spots, since most kids are back in school--that means college students too. There's plenty of opportunity to enjoy the solitude and see Mexico with less American influence this month. We have included great events close to the border too. We hope you will have a chance to enjoy one or more of these events.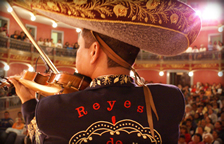 Encuentro Internacional del Mariachi y de la Charreria - Mariachi Festival
Guadalajara, Jalisco
August 28 - September 7
The most popular annual Guadalajara event invites visitors the world over come to listen, audition, and compete as Mariachis. Performances take in various venues throughout Jalisco. www.mariachi-jalisco.com.mx
Reto al Tepozteco
Tepoztlan, Morelos
September 8
This yearly celebration dates all the way back to 1850, when King Tepozteco was converted to Catholicism. Food, dancing and more.
Fiesta Mexicana
Rosarito, Baja Norte
September 13
Dinner buffet, live entertainment, folkloric ballets and more. At Salón Mexicano located in Hotel Rosarito Beach, beginning at 7:00 pm. http://www.rosaritobeachhotel.com/
Día de la Independencia - Independence Day
All of Mexico
September 15 - 16
Cities, towns and villages throughout Mexico celebrate the year 1810 call for independence chanting "Viva Mexico!" Dancing, parades, food and shopping occur at city centers.
Baja Seafood EXPO 2014 & 36th Annual Ensenada Seafood Fair
Ensenada, Baja Norte
September 17 - 21
Seafood Expo events include the aquaculture sanitation and safety symposium (September 17-18), fisheries and aquaculture commercial exposition (September 19-21), seminars and workshops (September 19-20), a seafood gastronomic contest (September 19-20), and a fishing tournament (September 20-21). The grand finale is the 36th Ensenada Seafood Fair (September 21) that includes fine seafood, wine, beer, live music and cultural entertainment. The Seafood Fair takes place at Playa Hermosa municipal beach, on the southern extension of Boulevard from 1 - 8 pm. bajaseafoodexpo.com, (646)174-0448.
Feria Internacional de Turismo de las Americas - International Tourism Fair of the Americas (FITA)
Mexico City, Distrito Federal
September 18 - 21
This year's 5th Annual Feria Internacional de Turismo de las America gathers professionals from the global tourism industry in Mexico City. Exhibitors and buyers from more than 60 countries are represented. www.fitamx.com
Fiestas de San Miguel Arcangel
Cozumel, Quintana Roo
September 21 - 29
One of the most important religious festivals in Cozumel, this one honors San Miguel Arcángel, or Saint Michael, the Patron Saint of the island. Colorful processions, food and craft fairs. http://www.cozumel.travel/about/events.cfm?show=17
Cozumel Ironman Competition
Cozumel, Quintana Roo
September 21
http://www.ironman703cozumel.com/
Fall Equinox
Chichen Itza, Yucatán
September 23
During the Fall Equinox crowds gather at the foot of the Chichen Itza pyramid to watch a shadow image of a Serpent moving up the stairs as the sun sets.
Baja Rally 2.0
Ensenada, Baja Norte
September 24 - 28
A scenic five-day motorcycles only navigation adventure with timed special stages for expert and pro. Start and finish take place in Ensenada. Features a full range of varying terrain including graded roads, off-road sections, beaches, dunes, canyons and washes. Boundaries are confined to Northern Baja California. Limited to 80 riders. Endurance, speed and skill, as well as ability to read terrain will be tested. Road books are provided prior to each stage. Info & registration at www.bajarallymoto.com.
Festival Internacional Tamaulipas
Tamaulipas
September 25 - October 5
The entire state of Tamaulipas parties during FIT, a fiesta that includes artistic and cultural expressions by way of exhibits, performances, concerts and more. fit.gob.mx and also http://issuu.com/itcacomunicacion/docs/beneficiarios/0.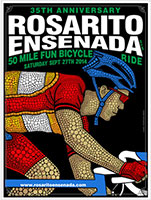 35th Fall Rosarito-Ensenada Fun Bicycle Ride
Rosarito/Ensenada, Baja Norte
September 27
This scenic 50-mile ride begins in downtown Rosarito and follows the Pacific Coast and heads inland through the rural countryside to the finish line in Ensenada. The event concludes with a huge fiesta at Hotel Corona on Ensenada's waterfront. Begins at 10 am. Register at www.rosaritoensenada.org.
"History & Culture of Wine in Baja California" Tour
Ensenada, Baja Norte
September 27
A guided excursion that begins with a continental breakfast and a talk at the Tecate Community Museum. A tour of Valle de Guadalupe includes visits to the Guadalupe Mission & Museum, the Museo de la Vid y el Vino (Wine and Vine Museum), lunch and wine tasting at Barón Balché, Sol y Barro and Tres Mujeres wineries. 9am - 6:30pm. Cost: $125 (non-members) includes Tecate-Valle de Guadalupe transportation, breakfast, lunch, tours, wine tasting and donation to Corredor Histórico CAREM, A.C., a Mexican non-profit association. Register by September 1 at www.carem.org or contact CAREM/Andres Contreras, Tecate tel. (665)521-3191
Fiesta de San Miguel
San Miguel de Allende, Guanajuato
September 29
During the feast day of Saint Michael Archangel, the city's patron saint, which takes place on the 29th of September, the commemoration of the battle of the conquest of the indigenous groups of the area is also celebrated. This annual festival includes parades, cultural dances, performances and fireworks. http://www.sanmiguel-de-allende.com/eventos/fiestasanmiguel.htm