Mexico's Highland Flings: Taxco and Valle de Bravo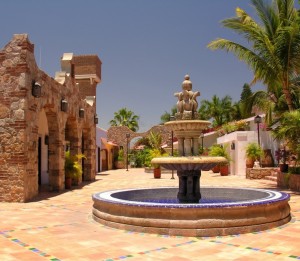 By Christine Delsol
San Francisco Chronicle SFGate.com
Being a child of temperate climes, I spent the first half of my traveling life avoiding Mexico in the summer. But when I finally had to make a trip to Mexico City one August, I stepped off the plane into what felt suspiciously like a balmy spring day in California. Now, as temperatures inch up and the air turns sweaty in the popular coastal destinations, I set my compass for the highlands.
The Spanish conquerors figured this out long before I did; it's no coincidence that Mexico's colonial cities are concentrated in the central highlands. The region also boasts a trove of smaller colonial cities whose beauty and authentic charm remain largely intact and where budget lodgings are in plentiful supply. Two of my favorites are within easy reach of major airports, and their colonial architecture is sprinkled picturesquely over hilly landscapes. Both are designated Pueblos Mágicos, for reasons that become apparent the minute you step off the bus.
This 500-year-old mining town, 100 miles southwest of Mexico City, is one of Mexico's renowned silver cities. The Spaniards came in search of tin in the 16th century but presumably weren't terribly disappointed when they found far greater quantities of silver. The hills are pretty well tapped out by now, but the town is still known for its silver craft, unequalled in Mexico and reasonably priced. The shift from mining town to silver design center is credited to American William Spratling, who opened a silver workshop here in the 1920s and spearheaded an economic revival by promoting the town's silver craft; today jewelry and goods are its chief export. Hundreds of platerias (silver shops) line its steep, sinuous streets; some of the best are in the Patio de las Artesaní­as on Plaza Borda (the zócalo). The National Silver Fair in June draws international silversmiths, miners and dealers, while visitors enjoy the fair's many cultural activities.
Arguably an even greater treasure is Taxco's hilly terrain, 5,000 feet above sea level in the Sierra Madre foothills, festooned with red-tiled roofs, bougainvillea-draped ironwork balconies, pocket plazas and winding cobbled streets. The center of town is full of colonial buildings from the 15th through 19th centuries, crowned by the Templo de Santa Prisca. The elaborate Baroque-style cathedral was financed by Taxco's great silver-mining baron, Don José de la Borda. His 18th century home on the western end of Plaza Borda is now Casa Borda Centro Cultural, which exhibits works by artists from throughout Guerrero state. Museo de Guillermo Spratling has displays of pre-Hispanic art and a smattering of silver from Spratling's private collection. One of Taxco's oldest colonial houses, built in the 16th century, is Museo de Arte Virreinal, housing religious art from the colonial period. You won't lack for places to explore even if you never buy an ounce of silver.
Best budget hotel: Hotel Los Arcos, Juan Ruiz d Alarcon No. 4. Lovely, small, quiet hotel with a variety of simple but comfortably furnished rooms on several levels of a converted 1620 monastery, steeped in colonial atmosphere. Lots of gathering places in the inner courtyard, outdoor patio and rooftop (which offers jaw-dropping views).
Closest airports Cuernavaca, Mexico City
The pine-scented mountain air and wooden homes tucked into deep woods on the approach to town are reminiscent of Lake Tahoe, but Valle de Bravo proper is a colonial-era Mexican village, 90 miles west of Mexico City. It became a weekend retreat for well-to-do Mexicans in the 1940s, thanks to construction of a dam that created lake Aándaro. The resulting prosperity is evident in Yamaha ATVs parked throughout town and a cadre of sleek young men leading healthy, bouncy dogs on leashes -- a sight not often seen in Mexico. Still, the town retains its authentic appeal, with cobbled streets, small restaurants, hotels, spas and shops surrounding a traditional zócalo. And despite its upscale appeal, budget travelers who don't need the full-on resort experience will find an abundance of places to lay their heads.
The town has a bit of a split personality. The affluent area is down by the lake, where boating, cruises and water sports are the main pursuits. Downtown, on the hill above, is where the inexpensive hotels and restaurants are. Though most tourist guides focus on the lake area, I'm most content downtown. The hilly terrain, meandering cobblestone streets, and abundance of red-tiled roofs are reminiscent of Taxco, with the addition of stunning lake views in almost every direction. Few North American tourists are in evidence here; most foreign visitors are Europeans. The zócalo is a fine place to kick back, try out some restaurants at random, browse the market, poke into shops and galleries, and climb up the streets behind the cathedral to research the finest views. Nature reserves dot the woods just outside of town, including the Santuario de la Mariposa Monarca, which hosts monarch butterflies in the treetops during winter months.
During the week, Valle de Bravo is a comfortable, friendly place to while away some kick-back time, and you can usually walk into a reasonably priced hotel and get a room. Come Friday, Mexico City weekenders pour in, so don't go without a reservation.
Best budget hotel: Posada Casa Vieja, Av. Juárez No. 101. Just a block from the main square, this centuries-old hotel has clean, bright rooms around a courtyard with a fountain and chirping birds. Upper rooms have a sunny, hacienda-style verandah with comfortable furniture and acres of potted plants. More spacious rooms with TV are also available.
Closest airports: Toluca, Mexico City
---