Copper Canyon, Mexico
By Suzanne Barbezat, About.com Guide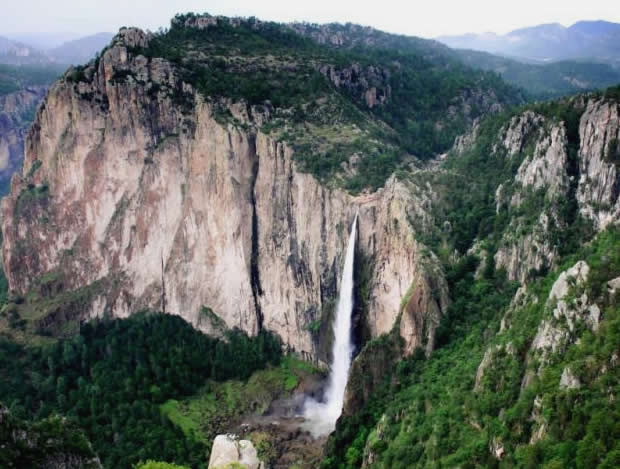 Mexico's Copper Canyon, in the state of Chihuahua, is in fact a network of canyons which together are several times larger than the Grand Canyon in Arizona. In this area you can enjoy some of Mexico's most rugged and stunning natural scenery. The canyons' wide range of elevation results in two distinct climactic zones with sub-tropical forests in the valleys and a cool alpine climate in the highlands' pine and oak forest.
Biodiversity of the Copper Canyon:
The varying climactic conditions make for great biodiversity in the Copper Canyon. Among the wild animals in the area are black bears, pumas, otters, and white tail deer. The canyons are home to over 300 species of birds, and many more migratory birds can be seen in the area in winter.
The Tarahumara:
The area is home to 4 indigenous groups. By far the largest group, estimated at about 50 000, is the Tarahumara, or Raramuri, as they call themselves. They live in the canyons preserving a way of life that has changed little over time.
The Copper Canyon Railway:
The most popular way to explore the Copper Canyon is on the Chihuahua al PacificoRailway, affectionately known as "Chepe." The trains run daily along Mexico's most scenic railway route between Los Mochis, Sinaloa and the city of Chihuahua. The journey takes between 14 and 16 hours, covers over 400 miles, climbs 8000 feet into the Sierra Tarahumara, goes over 36 bridges and through 87 tunnels. Construction on the railway line began in 1898 and was not concluded until 1961.
Read About.com's guide to riding the Copper Canyon Railway.
Highlights:
The Basaseachi Waterfall, at 246m high, is the second highest waterfall in Mexico, surrounded by pine forest with hiking paths and gorgeous views of the falls and the Barranca de Candameña.
Adventure activities in the Copper Canyon:
Adventure tourists can experience the natural beauty of the canyons on foot, mountain bike or horseback. Those taking part in these activities should be in excellent physical condition, keeping in mind the altitude and distances to be covered. Make arrangements with a reputable tour company in advance of your trip and go prepared for an intense, amazing time.
Tips:
Try to plan your trip for either the Fall or Spring seasons to avoid extremes of temperature.

Ride the train from the Pacific towards Chihuahua - going in the other direction you may pass some of the most beautiful scenery after dark.

Instead of starting the trip in Los Mochis, you can begin in El Fuerte, the train's first stop. It's a pleasant colonial town and beginning the journey here allows you to catch the train an hour later (7 am instead of a 6 am start from Los Mochis).