Mexico Insurance Sponsored TRINO is Fastest UTV at San Felipe 250
ALL OTHER UTVS PALE IN COMPARISON TO THE AFRAIDIUM RACING TRINO AT THE SAN FELIPE 250
Sponsored by Mexpro.com Mexico Auto Insurance Online
SCORE timing results show the Afraidium Racing UTV, piloted by John Crowley, having an official course running time of 8:04:19, which is over eight minutes faster than the second fastest 1801 car. More impressive is the fact that the running time also includes two ten minute time penalties assessed on the team, so in reality John completed the course a whopping 28 minutes faster than any other UTV in the field. The car ran flawlessly over the entire course with nothing more than gas stops. About the race, John Crowley said "It was a great day. We could have pushed a lot harder, but we didn't want to make any big mistakes to we kept the pace around 60%. The car ran great! The General Tire A/T tires are perfect for the car and we made it through with no flats at all. Our pit crew was absolutely flawless and Baja Pits really came through with the gas. If it wasn't for us showing up to the line late, it would have been a perfect day."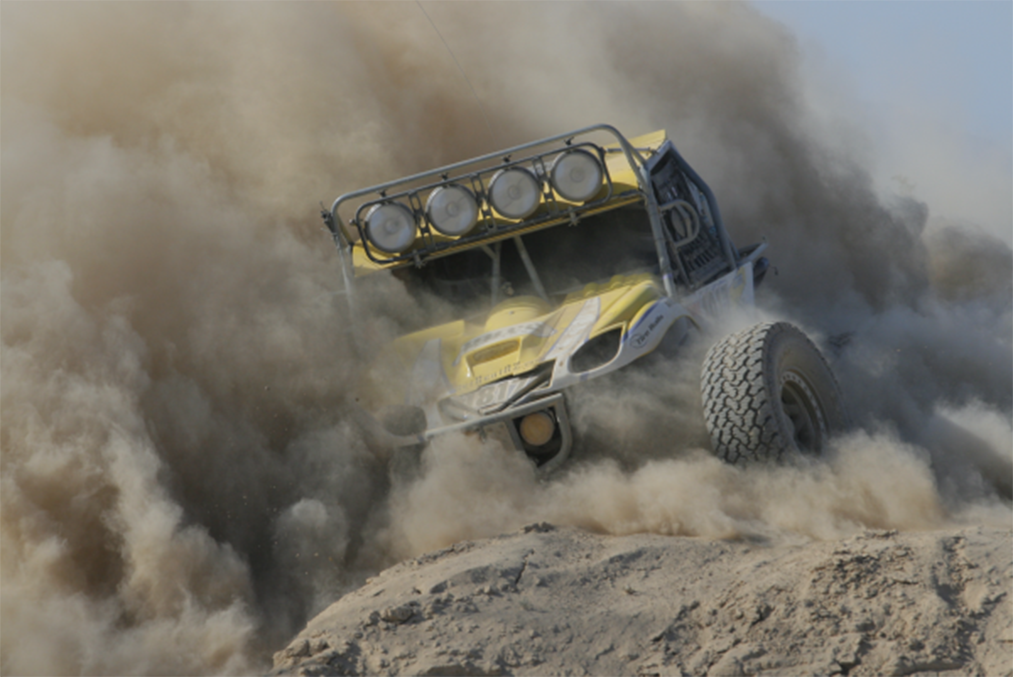 The Afraidium Racing UTV is a one of a kind custom built machine. Where other UTV's attempt to convert a stock production UTV into a machine that can race, the Afraidium UTV (dubbed the "Trino") is custom built monster UTV with only one purpose...Winning. The chassis is a full tube chromoly custom frame with 22" of travel up front and 20" of travel in the rear. It's powered by a Honda RC51 999cc motor in conjunction with a Mendeola 2d transaxle. The only thing "stock" on this vehicle is the hood. "We always knew she would be fast, but didn't expect her to be able to absolutely stomp on all the other UTV's like she does." Said builder Brent Reynolds from Reynolds Off Road Racing Design. "I mean, to go out and run the machine at a little over half speed and still come in a half hour ahead of the next fastest car really says something. Now that we have all the bugs worked out, I think we're going to turn the UTV class on it's ear."
The team showed up to the start line over an hour and a half late due to a last minute engine swap. As it turns out, they had some electrical issues that lead to swapping the engine the morning of the race. Because SCORE figures finishing order based on scheduled start time rather than actual start time, the official finishing position of the car was 4th. But it is a testament to both the car and the team that they were out there racing without competition around to spur them on and were still able to make up so much time on the rest of the field.
The Trino will be racing the Baja 500 in June and looks forward to taking home the SCORE championship this year.