Do Homework Before Taking a Mexico Holiday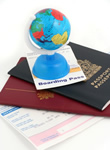 A popular holiday destination for people the world over, Mexico offers a temperate climate, fabulous beaches, and all the activities that go with the beach...scuba diving, surfing, snorkeling, swimming and many more!
Before you head to Mexico and forget all your worries, you should consider a few potential problems and prepare yourself so they won't affect your trip.
On April 4, 2010 there was a 7.2 magnitude earthquake that hit near Mexicali, Baja California, Mexico. One should know that Mexico has many earthquakes and maybe even the locals of the most recent ones before traveling there.
Mexico is also prone to hurricanes and tropical storms. Hurricane season takes place between June and November and has the potential to hit bot the Pacific and Atlantic coasts.
U.S. citizens are advised against travel to Ciudad Juarez (south of El Paso, Texas) due to an increase in violence associated with illegal drug activity. Also included in the warning are the towns of Nuevo Leon, Chihuahua, and Tamaulipas and border areas of Nuevo Laredo, and Reynosa.
Car jacking has taken place Monterrey and border areas near there so lock your doors.
Street crime is common in Mexico so take steps to protect yourself.
Women should beware of traveling alone. Stay aware of drink spiking and sexual assault in bars.
Drug related crime has been reported in many areas of Mexico.
Be sure you have Mexican auto insurance if taking your car into Mexico. Also be aware that traveling in areas where advisories against travel are in effect could invalidate claims there.
Read Mexpro.com's "Know Before You Go Tips" to learn more before heading to Mexico.