Mexico Affordable Retirement
Mexico is all about relaxation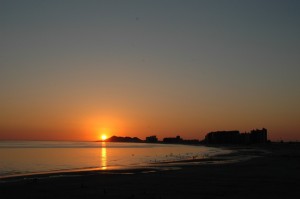 Retirement is about leaving the rat-race behind and dedicating more time to relaxing. The "ho hum" of the workweek gives way to a less hectic and less worry-filled existence. Retirement can provide additional opportunities to pursue leisurely outdoor activities, such as walking along the beach, golfing, bird watching or fishing. It can also provide more time to pursue artistic passions, such as painting, writing, sculpting, or quilting. Mexico not only provides many opportunities for leisurely pursuits, but also a more relaxed way of life. Plus, the cost of living in many parts of Mexico can be significantly less than it is in the United States, making it a popular place to retire, especially for those looking to stretch the dollars in their retirement fund.
Do your research, before making the move
Are you looking for something closer to the border, so you can more easily drive back to the U.S. to visit family and friends? If so, there are a number of popular destinations located near the U.S. / Mexico border, and also within Mexico's Free Zone. Puerto Peñasco (Rocky Point), El Golfo de Santa Clara, San Felipe, and Ensenada are all popular retirement communities that are relatively close to the U.S. border. Further south, there are lots of other great retiree communities, including; Lake Chapala, Puerto Vallarta and Guadalajara in Jalisco, La Paz and Cabo San Lucas in Baja California Sur, San Miguel de Allende in Guanajuato, San Cristobal de las Casas in Chiapas, Riviera Maya in Quintana Roo, Mazatlan in Sinaloa and Merida in Yucatan. While each of these communities will have a lot to offer retirees, not everyone likes the same things, so be sure to do some research, to find the one that best suits you, before making the big move.
Tour Mexico in a recreational vehicle
Touring Mexico in a recreational vehicle is a great way for retirees to see and experience the many different communities in Mexico that cater to retirees, and also to recreational vehicle travelers. Traveling in a recreational vehicle, will allow you to move easily from one Mexico retirement enclave to another, and find the spot that best fits your retirement needs. You can travel from the beach to the mountains, with ease, and paying recreational vehicle lot fees can be a lot less hassle and also a lot less expensive than renting condos or hotel rooms.
If you are heading all the way down to the Yucatan peninsula, or just visiting a border town in Mexico, you will need to arrange for proper insurance coverage for your motorhome and/or travel trailer. No matter if you need liability only coverage for just 24 hours, or complete coverage, including physical damage and theft, for a full year, the Mexico Insurance Professionals can help you get the right policy for your situation.