My Big Fat Mexican Wedding
As wedding season rolls around this time of the year, I'm approaching my first wedding anniversary. I got married in Mexico because it's where my wife's family lives. However, maybe you or someone you know is in the process of planning a wedding.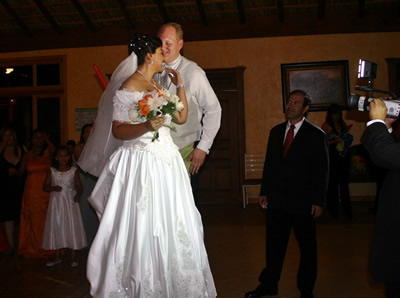 I know a little bit about wedding planning and how stressful it can be. Mine was only a year ago, and luckily the coordinating went mostly to my wife for the wedding in Mexico, and to my folks for the wedding in the States.
I did end up paying a good amount of cash, but for a person coming from a working class family and budget, I never imagined that my wedding would have a professional band, photographers and videographers, world-class catering, and a country club locale with a lovely garden, not to mention waiters bringing everything to me, and my family and friends.
My US wedding, which took place up north in Washington State, was a bit less fancy. I rented a state park's outdoor kitchen area, and my family prepared the food and it was more of a buffet. Any of my friends and family equipped with cameras were put to work on photo duty. I guess you could say it was more of an egalitarian wedding; I had a great time but I didn't need to feel like a princess as many brides do for their matrimonial celebration.
My point here is that you can put on a pretty posh affair for your money down in Mexico since the cost of labor us much cheaper. Generally, labor related costs in northeast Mexico are about a quarter of what they are in the US, and often labor prices and other things get much cheaper in the central and southern parts of Mexico, due to their distance from the US border. The United States is Mexico's main trade partner and much of Mexico's cash wealth comes from US trading, so it makes sense that costs rise closer to the northern border.
Another big kicker for having a wedding in Mexico is the weather. Where I'm from, most people get married from June to August; there are very few weddings outside of these dates. When my wife and I were planning our betrothal celebration, my wife wanted it for December. I thought that was really odd: "Who gets married in December?" I thought. However, in most parts of Mexico, December temperatures are moderate and there's very little rainfall, where as in places like Seattle it's cold and wet almost all the time except for June through August. In Mexico, December is kind of a non-stop party time anyway, and among all the happiness and holiday cheer many brides opt for a Christmastime ceremony and shindig.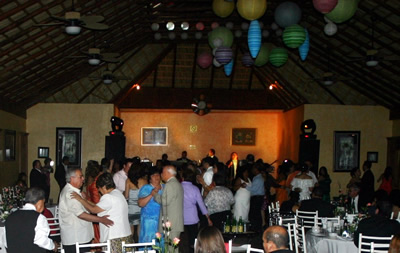 The drawback of having a wedding in Mexico during the traditional Anglo-American wedding season is that June, July and August are the wettest months in many of the regions of Mexico. However, it's not like the non-stop gloomy cloudy stuff that I grew up with. Here in Saltillo the rainy season is like this: it rains really hard, like cats and dogs, for 30 minutes or so, and then the sun comes back out and everything in the desert gets green for a while.
I had my Mexico wedding in June, and we did get some rain, but it was just a little bit and didn't put a downer on the affair, we hardly noticed it, but if you're superstitious about rain on your wedding day you may want to check the statistics on when rainfall comes to your wedding destination.
In any case, my Mexican wedding was the happiest day of my life and it was unforgettable. I never thought I could feel like royalty for a day on a working person's salary. I recommend it to anyone who doesn't mind getting out of their comfort zone and can make arrangements in Spanish.