Mexican Dress and Fashion
I can't say that I've ever been a fashion-savvy person. People who know me well and have a keen sense of style might even say that I suffer from a fashion disability. If it weren't for the women in my life, I would be content to walk the earth wearing mukluks and a poncho.
Yes, I admit it. I am aware that I'm behind on fashion trends. It's the Gringo-American way. We North Americans on a whole are looked upon by other affluent societies to generally be a bit retarded and/or apathetic when it comes to how we look and present ourselves.
I first really noticed this when I vacationed in Europe. Hoping I could blend in, having European heritage and features, actual Europeans could tell I was American just by the way I dressed: cargo shorts, an old t-shirt and tube socks with open-toed sandals. I became more self-aware of my image and the way I presented myself. I realized that the way we dress is a reflection of our self-respect.
I had a fashion awakening there in Europe. I learned that if I'm going to wear cargo pants, I should use ankle socks, and also that wearing socks with open-toed sandals is a no-no. I don't like these rules, but they exist for some reason in society, and we must abide if we wish to get by un-molested by the fascist fashion police which are present in most all civilizations.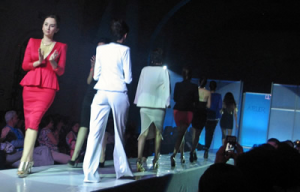 Mexico is a bit more like Europe in the way they dress. We North Americans will wear a jogging suit and call it snazzy. We go grocery shopping in sweat pants because it's comfortable and functional, not recognizing that when we leave our house we will interact with other people and should look good while doing so.
I was raised Mormon, and every Sunday I would wear a white collared shirt with a tie, slacks with a nice leather belt, and shiny leather shoes with slick dress socks. It was only once a week but it gave me a sense of pride in my image. In the military I took pride in the way I looked in my dress uniform. Attending to the details, arranging the decorations and fixtures perfectly because I felt I had earned them and it made me proud to wear them.
After I left military service I sort of lost this pride in fancy dressing. I studied at a very liberal college and wanted to look more like a person of the earth. I let my hair and face grow out, un-groomed. I let it all hang out, in a manner of speech.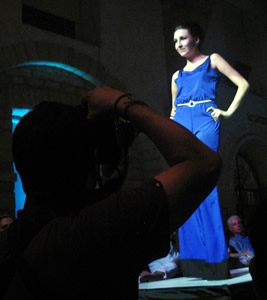 Here in Mexico people are not like the hippies on my college campus. When I teach English here it's always slacks and a collared shirt. Perfume and cologne are applied whenever people leave the house, along with hair gel for the men and make-up for the ladies.
I don't know much about designers and models. However my wife's cousin is a fashion student so I had the opportunity to check out some run-way expositions of student designers: really not my scene, but I like to see other photographers hard at work.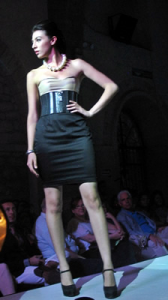 Latin America has long been famous for plastic surgery, as it's comparatively inexpensive here. I'm told that it's much more common in South America for women to get gluteus and/or breast implants. However as the world gets smaller and culture is more international the models here are taking on more European-style builds. They're leaning away from the sexy curves and more toward tall slender figures. From the view-point of the designer, you don't want the audience to focus on what's inside of the clothes. Instead the models are more clothes hangers than objects of lust.
If you want to mingle in Mexican society, remember to bring nice clothes. When I first came here I brought a lot of cargo pants and beach shirts. I've since had to buy a lot of new threads.