May 2014 Mexico Festivals and Events
For those of you who prefer to avoid the Spring Break crowds and head to Mexico after it's had time to clean up and rest -- May is the perfect vacation time for you. This May there more events an festivals all over Mexico than most other months. Whether you want to sample delicious cuisine or take a long ride along the ocean on your favorite cruiser, there's something for you! Check these out.
Dia del Trabajo
All of Mexico
May 1
Dia del Trabajo or Labor Day is a national holiday in Mexico. Political and labor union marches take place with official speeches. Schools, banks and government offices are closed.
Dia de la Santa Cruz
All of Mexico
May 3
Dia de la Santa Cruz or Day of the Holy Cross is a celebration dating back to colonial times. Flowers are mounted on buildings under construction. Picnics are held with fireworks.
Rosarito-Ensenada Fun Ride
Rosarito/Ensenada, Baja Norte
May 3
Rosarito Ensenada Fun Ride began in 1979. The 50 mile bicycle ride along the Pacific Coast and inland through rural countryside from Rosarito Beach to Ensenada commences in Ensenada at the waterfront with Fiesta, food, drinks and live music until sunset. www.rosaritoensenada.org
Cinco de Mayo
All of Mexico
May 5
This holiday celebrates the Battle of Puebla of 1862 when the Mexican army defeated the French, so this day is particularly festive in Puebla.
Tianguis Turistico
Cancun, Quintana Roo
May 6 - 9
Tianguis Turistico is Mexico's largest annual travel trade show; this year it will be held in Cancun. www.tianguisturisticomexico.com.mx
30 Festival Mexico Centro Historico
Mexico City
May 9 - 19
This popular festival features opera, concerts, theater, art exhibits and dance and proceeds go toward the restoration of art and architecture in Mexico City's historic downtown area. festival.org.mx
Festival Cultural de Mayo
Guadalajara, Jalisco
May 9 - 25
The May Cultural festival features concerts, exhibits, film screenings, dance performances and food tastings. www.festivaldemayo.org
Dia de la Madre
All of Mexico
May 10
May 10th is the always the day Mother's are celebrated in Mexico (not on a Sunday like in the U.S.). Mother's are honored in schools and on the streets. They are taken out to eat to be relieved of their duties on this day.
Dia del Maestro
All of Mexico
May 15
Dia del Maestro or Teacher's Day in Mexico is usually celebrated with a day off school.
Cabo Marine Show
Los Cabos, Baja Sur
May 15 - 17
The largest marine networking event in Mexico, the Cabo Marine Show is in its 5th year. The event takes place at the Cabo San Lucas Marina at L-Dock, in front of Baja Cantina Marina. Yacht brokers, tour operators and marine products and services companies offer their products. cabomarineshow.com
Restaurant Week in Puerto Vallarta
Puerto Vallarta, Jalisco
May 15 - 31
For Restaurant week Puerto Vallarta's best restaurants create delicious three-course meals and discount them by as much as 50%. Tips are not included in the discounted meal. virtualvallarta.com/puertovallarta
Mercedes-Benz Trophy golf tournament
Los Cabos, Baja Sur
May 17
The Palmilla Golf Club hosts the 12th Annual Mercedes-Benz Trophy golf tournament, the most important amateur golf competition in Mexico.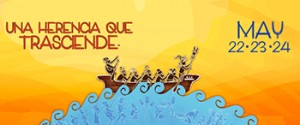 Travesia Sagrada Maya
Quintana Roo
May 22 - 24
This celebration involves a re-creation of the ancient Sacred Mayan Journey to worship Goddess lxChel. en.travesiasagradamaya.com.mx
Morelia en Boca
Morelia, Michoacan
May 24 - 26
Enjoy three different facets with this food and wine festival that focuses on traditional cuisine of Michoacan, Mexican wine, and modern food demonstrations from top chefs. Takes place at the Centro Cultural Clavijero, in the historical center. www.moreliaenboca.com
Pride by the Sea
Puerto Vallarta, Jalisco
May 24 - 26
Puerto Vallarta celebrates the LGBT community at this annual Pride event. Enjoy live music, beach parties, and many other events. www.gayguidevallarta.com
Festival de la Paella
Ezequiel Montes, Querétaro
May 25 - 26
The annual Paella festival celebrates this popular rice dish from Spain. Sample variations of this delicious Spanish cuisine. www.freixenetmexico.com.mx
Rosarito Art Fest
Rosarito, Baja Norte
May 25 - 26
More than 100 Baja California artists will gather for the Rosarito Art Fest, now in it's 3rd year. Watch local artist create while you enjoy free live music and enjoy delicious local cuisine. Artist productions will be for sale. Event takes place at Boulevard Benito Juárez at the Hotel Fiesta Plaza. rosaritoartfest.wordpress.com
Feria de Corpus Christi
Papantla, Veracruz
May 25 - June 2
The Catholic Feast of Corpus Christi is celebrated with ceremonies to promote fertility and strengthen communion with God.
Fiesta of San Isidro
Tepic, Mexico
May 2014
Fiesta of San Pedro celebrates the patron saint of rain, agriculture and livestock. An important celebration to this rural community, local farmers bring decorated mules and livestock to town to be blessed and to pray for a good farming season. Various venues in the town of Tepic.
Don't forget the Baja 500 is coming up in the beginning of June 2014...