Los Lirios, Mexico Where Neighborly Kindness Courtesy Thrives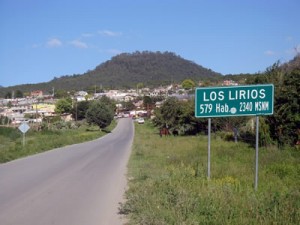 Sunday is a special day in Mexico. It's far from the lazy day of rest that I remember from growing up in the U.S. Few people work on Sunday here, but still everyone seems to have much to do. In Saltillo where I live, the main streets of Venustiano Carranza Boulevard and Victoria are closed to auto traffic: these are the main arteries of a city of more than 600,000 people, so businesses don't have much choice but to slow down. People walk their dogs, merchants sell their wares and street artists perform.
This tradition of closing off the streets isn't unique to Saltillo. As I observed today it's a tradition that takes even more hold in rural towns such as Los Lirios, Coahuila, just 20 minutes outside of the state capitol.
The one route into this valley community is a road riddled with potholes. Fields support crops such as corn, carrots, potatoes, and cilantro as well as fruit trees. Signs advertise land for sale, and at the rate of five U.S. dollars for a square meter, or about $20,000 per acre, it seems like it could be a dream come true.
From my brother-in-law's plot of land we fly a kite against the supple breeze and enjoy food and drinks. Just out of earshot are other families enjoying their sunny afternoon in the country. Seated upon a hill on the horizon is a more congested community. It seems to draw us in.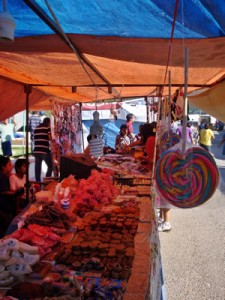 As me and my wife come up onto the itty bitty city, cars line the street, and people are walking through the byways. A young woman rides a horse as she sips on a beer. Though public drinking is prohibited in the majority of Mexico, the people here watch out for one another and a brew here and there is permitted. Children play in the streets with dogs. Venders sell fresh food and homemade candy along with simple things such as brooms and mops for the home.
Looking around I don't notice a single name brand business, franchise or gas station. It's as though this community has yet to be spoiled by mainstream commerce. Instead of modern highways and shopping centers this town has a vista of farm land and verdant mountain hills as far as the eye can see. Though there are no hotels that I could notice, there are cabins for rent.
It's an old-world beauty that I have never seen in my native country. Tthe general populace have shown me only amiability and respect. There are always people here who are eager to lend a helping hand just for the sake of doing a good deed. And communities like Los Lirios are a look back at the roots of where those old virtues of neighborly kindness and common courtesy came from, and they continue to flourish throughout this country.