Leaving home for a Mexico Vacation? Use this home checklist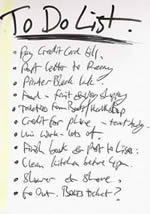 Before you leave home for a Mexico vacation this winter, follow these steps.
Shut the water off at the main, open the faucets.

Be sure the furnace or boiler has been cleaned and inspected.

Turn heat down, but not off! Most thermostats will go as low as 55 to 60 degrees. Before setting it lower, check with the manual or ask the manufacturer.

Empty refrigerators and freezers of foods that won't last, and leave them running. Or empty completely, unplug and prop open.

Disconnect hot and cold supply hoses to the washing machine and leave the valves open.

Turn off and drain the water heater.

Disconnect the water softener. It's a good idea to do one final backwash before disconnecting, to make startup easier.

Check appliance manuals for advice on shutting down or what to do when leaving for extended periods.

If possible, make sure hoses connected to outdoor faucets are disconnected and fully drained.

Pour nontoxic or RV antifreeze (not automotive antifreeze) into all traps and drains, including the dishwasher and showers. Use 2 cups in toilet bowls and tanks, and about 1 cup in other drains.

Be sure windows, doors and fireplace dampers are closed and latched.

Check insurance polices to make sure you're covered if the house is unoccupied for an extended period.

Conduct a home inventory (photograph or videotape important items) and take it with you. It will support an insurance claim if items are damaged, destroyed or stolen.

Contract for snow removal, stop mail and paper delivery, and set lights on a timer. Other useful safety monitors are available at home and hardware stores.

Let local law enforcement officials know the dates you will be gone. They often increase drive-bys or otherwise keep an eye on your place.

Tell neighbors you'll be gone and leave a contact number with them.
When you return:
Bring the heat back gradually to minimize creaking and groaning associated with heat expansion. Allow about eight hours to go from 50 to 70 degrees.

Fill the water heater before turning it on.

Reconnect the water softener and backwash immediately.

Turn on the main water supply only slightly, then open each faucet to bleed the air out of the line. When this is done, turn on the water the rest of the way.

Be prepared to replace a faucet washer or grommet or two. When lines are drained, the rubber washers can dry out.
Thank you to the Minneapolis-St.Paul, Minnesota StarTribune.com for this informative article.
---