Four Easy 'to Drive to' Mexico beach destinations
Last Updated: August 19, 2014 by Mike Mercer
Categories:
A short trip from the border to the beach
Four Mexico beach tourist destinations that are all short drives from the U.S. border, making them popular choices, for a Labor Day Weekend getaway. Labor Day has always been sort of a bittersweet holiday for me. It's great, because it's a paid day off for most, but it also signals that the end of summer is getting near. What better way to finish of the summer, than a Mexico road trip to enjoy some festivities on the beach?
Rosarito
Rosarito is just about a 30 minute drive, once you pass the port of entry between San Ysidro, Califonia, and Tijuana, Baja California Norte in Mexico. There will be lots events taking place in Rosarito over Labor Day Weekend this year, including: a Farmers Market, a Sand Sculpture Competition, the Seafood Fair at Puerto Popotla, and a huge pool party.
Puerto Peñasco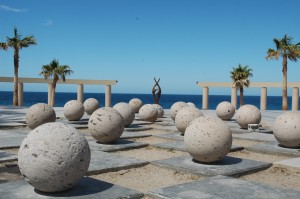 Puerto Peñasco, commonly referred to as Rocky Point, is a little over an hour drive from the port of entry between Lukeville, Arizona, and Sonoyta, Sonora in Mexico. On Friday, August 29th and Saturday, August 30th, Rocky Point will be hosting the Midnight Wreck Off-Road night race. Each night drivers will be doing four laps around the 24 mile course the stretches between Sandy Beach and Cholla Bay. During the day on Saturday, you can spend some time strolling around the bi-monthly Mermaids Market, to peruse the art, crafts and clothing.
Ensenada
Ensenada is right around a one and a half hours drive form from the port of entry at Tecate, California. Over Labor Day Weekend, Ensenada will have a number of live musical performances going on, featuring various styles, including: Blues, Piano and Flute, Mariachi and Banda. Over the long weekend, Ensenada will also host: a 5k run (participants can also jog or walk in this event); the 6th annual Sardine Fair at the Plaza Ventana al Mar; and the Labor Day Craft Fair at Punta Estero.
San Felipe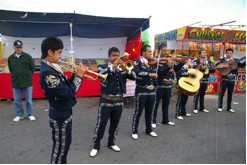 San Felipe is less than a two and a half hours drive from the port of entry between Calexico, California, and Mexicali, Baja California Norte. San Felipe will be hosting their Ceviche Fest 2014, at the Malecon, on Saturday. Or, you can check out the water volleyball tournament, at El Dorado Ranch.
Before you hit the road towards Mexico
All four of these great Mexico beach destinations are located inside Mexico's free trade zone, so you won't need a temporary vehicle import permit to drive your own ride. However, U.S. auto liability coverage does not extend into Mexico, so you'll need to purchase a short term Mexico tourist auto insurance policy, before you go. It is also wise to get travel medical insurance. And, don't forget to bring your passport, as you are required to have it while traveling in Mexico and it's needed to get back into the U.S.