La Frontera - Artists along the U.S./Mexico Border
Stefan Falke visited Tijuana, Tecate, Mexicali, Nogales, Ciudad Juarez, Nuevo Laredo, Reynosa and Matamoros Mexico, photographing 150 artists along his way. His purpose was to highlight border culture and communicate it's beauty to American and Mexican's alike.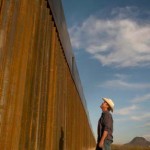 Flagstaff's own Raechel Running was featured in his images. Says Running of the photo featured of her at the new Agua Prieta border fence, "Imagine my shock to see how it (border fence) changed in one year. The wall I had photographed had come down and has been replaced with this NEW wall. The Mexican, US flags were sown together by my mom for a prop I used for my own portraits of people who love both countries." See Raechel Running here...
From Stefan Fulke's Blog...
I am on my way home to New York (and open for assignments) after multiple trips to the US Mexican Border. I photographed about 150 artists in all major Mexican cities along the border, some of them still and often wrongfully called the most dangerous places on earth. Many places suffer from this stigma which they will not loose easily because the international media only slowly comes to grips with positive change. I also visited cities on the border that don't feel as safe as others. But there is a lot of hope in those regions as well and often the artists are the ones who speak out against the violence when nobody else does or they are helping to improve life for all by creating public art. This is what I have concentrated on in my work for my project LA FRONTERA: Artists along the US Mexican Border. I will step back from it for a little while and sort out the material for magazines, a website, exhibitions and ultimately, the book. More at www.stefanfalke.com.