It's Really that Easy!
Does it really take 10 minutes or less to purchase a Mexico Insurance policy with Mexpro? My answer is YES, and yours will be too, shortly!
Recently I bought an online policy for a trip to Rocky Point, Mexico. Even though I've worked for Mexpro for eight years and tested the quote form more times than I can count, I had never purchased a real policy online, myself.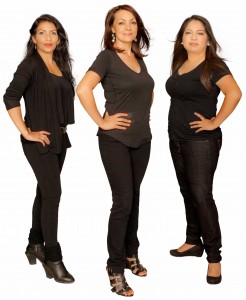 A photo of the Mexpro 'Angels' on the Mexpro.com home page shows three of the capable ladies who purchased my policy for me in the past. The day before my departure, these gals were on the phone all day taking care of customers, so I went for it and really tested the quote form this time.
I wasn't very prepared. I forgot to get my:
Driver's License
License Plate Number
Vehicle Registration
Insurance Card
I quickly gathered my documents and started on the quote. Like I said before, I have the advantage of knowing the quote form, and although it didn't seem to help me get my documents together before I bought, buying was sure easy.
On the first page of the form, I was asked for the vehicle value. I found the links to Kelly Blue Book (KBB) and NADA made it easy. On a Mexico insurance policy (from any company) you will likely not get reimbursed more than the value indicated on one of these sites, in the event of a claim.
The field for vehicle liability was automatically filled in (though I could have changed it to more or less coverage) to comply with newer Mexico laws that require a minimum $300,000 liability limit in most Mexican states. Also, automatically filled in, was the fixed deductible option, which provides coverage like my US policy. Mexico's traditional percentage deductible policies have a minimum deductible, as well as percentage of the vehicle value deductible. They cost less up front, and likely more if you have to make a claim.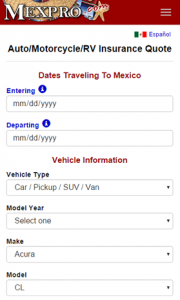 The rest of the form involved first, choosing a company, price and length of the policy (daily, six month, annual) and then plugging in vehicle ID number, insurance information and my personal information. All my information was presented again, before I paid, to check for accuracy. I put in my credit card number (using a secure server) and snap I had a policy.
Next time, just for fun, I'm going to buy a policy on my iPhone. We've spent a lot of time at Mexpro making our mobile experience friendly and easy. Since I usually forget everything until the last minute, it's great to know I can get a policy during the five-hour drive to Mexico and all my documents are immediately emailed to me, in case I need them.
I'm glad I don't have to take a chance on being in Mexico without Insurance. I proved I can get a policy in 10 minutes or less. What's your time? Post it here!